We have arrived in Wanaka.
Actually we already arrived over a month ago. I'm just now taking the time to sit down and write about settling in our temporary hometown. Despite my strong desire to write I'm usually very good at filling my time with physical, preferably outdoor activities. Very often lots of my writing will be notes over notes, on my phone, on sheets of paper and in multiple notebooks (one can never have enough notebooks!). Sitting down to create readable content from these notes is generally more of a sort of calm and non-physical activity. Once I get to the point that I start writing (like I am now) I can get lost for hours. It's the same with reading. Once I've managed to make the restless part of me - the one that's always shouting "C'mon let's get outside and do something!!" - take a break, the part of me that could spend days in a hut tucked away somewhere just to read and write shyly surfaces.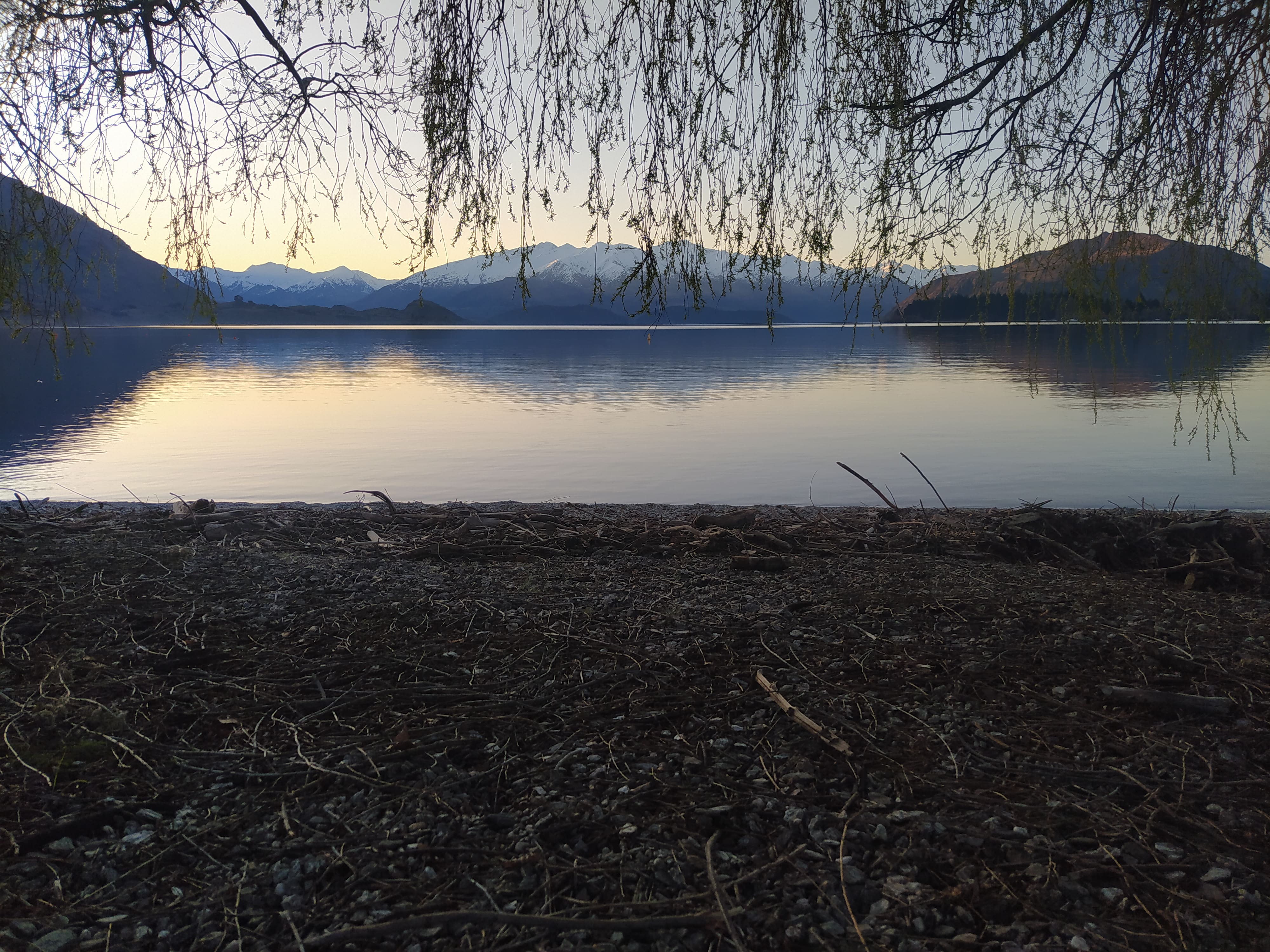 View of the snow-capped mountains from the lakefront
The beginning of our long-term holiday was a bit, hmm let's say, "rougher" than anticipated. I was struck with a bit of period pain which led to an involuntary rest day of some easy walking, yoga, more yoga and lots of chocolate milk. Plant-based, obvio :)
Darryn on the other hand was struck by an on and off pain in his teeth. This had already started just before we left Ōtautahi / Christchurch but was irregular enough to be easily ignored. And this is how he eventually had his very last wisdom tooth taken out. By a dentist in Wanaka, with views of the mountains, as he would tell me later.
This and a weather front with a bit of nasty rain for a few days had us extend our stay in one of the local campgrounds by a few days before immersing ourselves in the first adventure.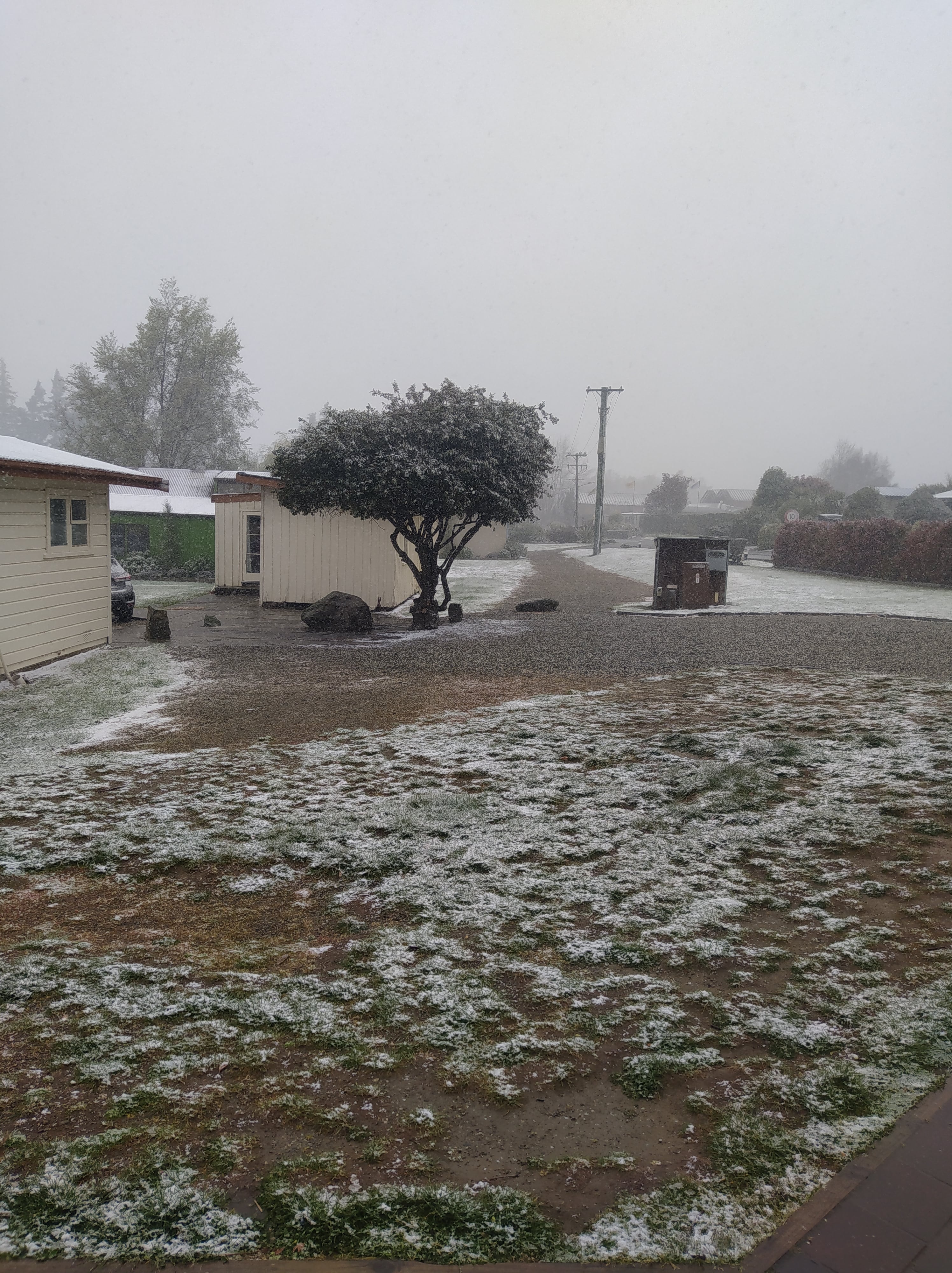 "Four seasons in one day...." Not the same weather front mentioned in this post but one a couple of weeks later....
Both this and the previous image were taken half an hour apart in the order you see them here....
And this was our first week in Wanaka. If it wasn't for a bit of travel experience, especially with trips that feel like they could not have had a shittier beginning but turned out to be fabulous in the end (most of the times), I may have been a little bit annoyed with a start like this. I've been thirsty for some tramping mountain time for a wee while. But there's something about situations like these that nowadays simply make me think "Ah well, now that we have that ticked off (and that and that...), let the fun begin."
With an entire month already spent in the Wanaka region, we've established our own wee routine that seems to work quite well:
→ Find a nice area to explore. (There are so, so many!)
→ Go tramping for a few days.
→ Come back to Wanaka to have the luxury of hot showers, an indoor kitchen and drinking water from tap, to name a few. To have a bit of rest, do some climbing, running and prepare the next tramping section. And to do some writing, of course!
Except for nights we spend in huts we live in our portable little home (tent) and are renting a storage unit to park our gear while being out and about.
To say I'm fully embracing this simple life as close to (and within) Nature as can be is a huge understatement. The first time I was able to get a taste of how beneficial living like this can be to me was in 2019 when I started long term travel. After I've left a corporate job and an environment that for years and years had been comfortable but, frankly, was very slowly eating me alive without even noticing. Forgive my dramatic words but in retrospect, with time and a little bit more life experience, some things I considered normal back then seem so out of line now. Almost like the life of another person but that would just be pushing away my own responsibilities. (To friends who already were a part of my life back then, don't take the statement as an offense. Even with close friends or partners alongside, things can be far from OK in one's life. If you're dear to me you'll know.)
Part of these life experiences include being in solitude for the first time, at least as far as I'm aware. And plenty of times since then.
Solitude...
Something I long considered equivalent to being lonely and therefore something I'd run away from all my life. Until not too long ago I'd hated to be by myself or still of any sort. I'd surround myself with others or would try to keep myself busy, mostly with active sports, or (admittedly) have a drink (or two). All this solely to avoid having to think too much about the things that deep inside troubled me. It never hit me that I was actually, quite literally at times, running away from myself. I simply can't be still because I have so much energy. Hmm, right.
This excuse worked until I found myself in a situation when I had no other option than to be solitary and when there simply wasn't much room to be active (and, again admittedly, not enough alcohol around). A situation I entirely chose to put myself into: To travel from Europe to South America on a cargo ship. Starting long term travel with 3 - 4 weeks on a freighter in the middle of the ocean. Can it get any cooler than that? Haha, little did I know.
Even with crew, a dear friend and less than a handful of other passengers, it's hard to describe how solitary it can get on a ship in the wide open water. It's truly beautiful, I sometimes long for those moments now. Nothing cancels all the many noises and stressors of modern life more than being on a ship crossing the Atlantic Ocean in the middle of the night. With nothing more than the calming sounds of the waves around you and an uncountable number of stars above your head.
How to know what we care about, what to give back, if we don't dare to stop and listen to ourselves? But if, like me back then, one has never experienced something like that before, it can get really uncomfortable at first. Something many people much more talented with words than me have described as getting in touch with your inner darkness. Ooh, and dark it gets, baby, dark it gets. Especially, when your ego gets crushed by the vastness of the Ocean. And instead of being able to run away, you simply have to stay where you are (and listen to all kind of weird emotions that've piled up over the past years. Far from cool). Or be an extraordinary swimmer.
In hindsight, that experience was just the beginning and, luckily, one of many to follow (lots and lots of time in the mountains in more or less remote places) and one that I desperately needed. Again without being aware of it at all.
Fast forward a few years (and a few more moments of scary darkness) and I now long for a regular dose of solitude. Best served outside of the personal comfort zone, mixed with lots of Nature. Shaken, not stirred. Which is why I'm now here writing these words hoping to give you a glimpse of why I'm doing what I'm doing. (Ideally you care a little bit, so I haven't wasted too much of your time by now ;) )
Now, let's have a wee look at what we've been up to over the past few weeks: