My Experience
There are a number of multi day walks in New Zealand categorised as Great Walks. These are very well maintained and easy to follow tracks in some of the most spectacular regions of the country. No extraordinary navigational skills needed, except for maybe being able to distinguish left from right. What also sets these kind of walks apart from other tracks for me is the level of care taken by DOC. You will find more signs (navigation, warnings, recommendations for clothing and packing, etc.). Huts along these tracks will usually be serviced in the main season (October to April = summer here in the bottom of the South Pacific). This makes these kind of walks a great (as in "Great Walk", haha :P ) option for international (or local) travelers with little or even no hiking experience but wanting to explore some impressive scenery by foot. That being said, all of the Great Walks are beautiful and may differ in difficulty, i.e. when comparing the Abel Tasman Coast Track with the Milford Track. All of them are as well suitable for experienced hikers. Yet the level of safety care taken and maintenance makes them stick out (and busier).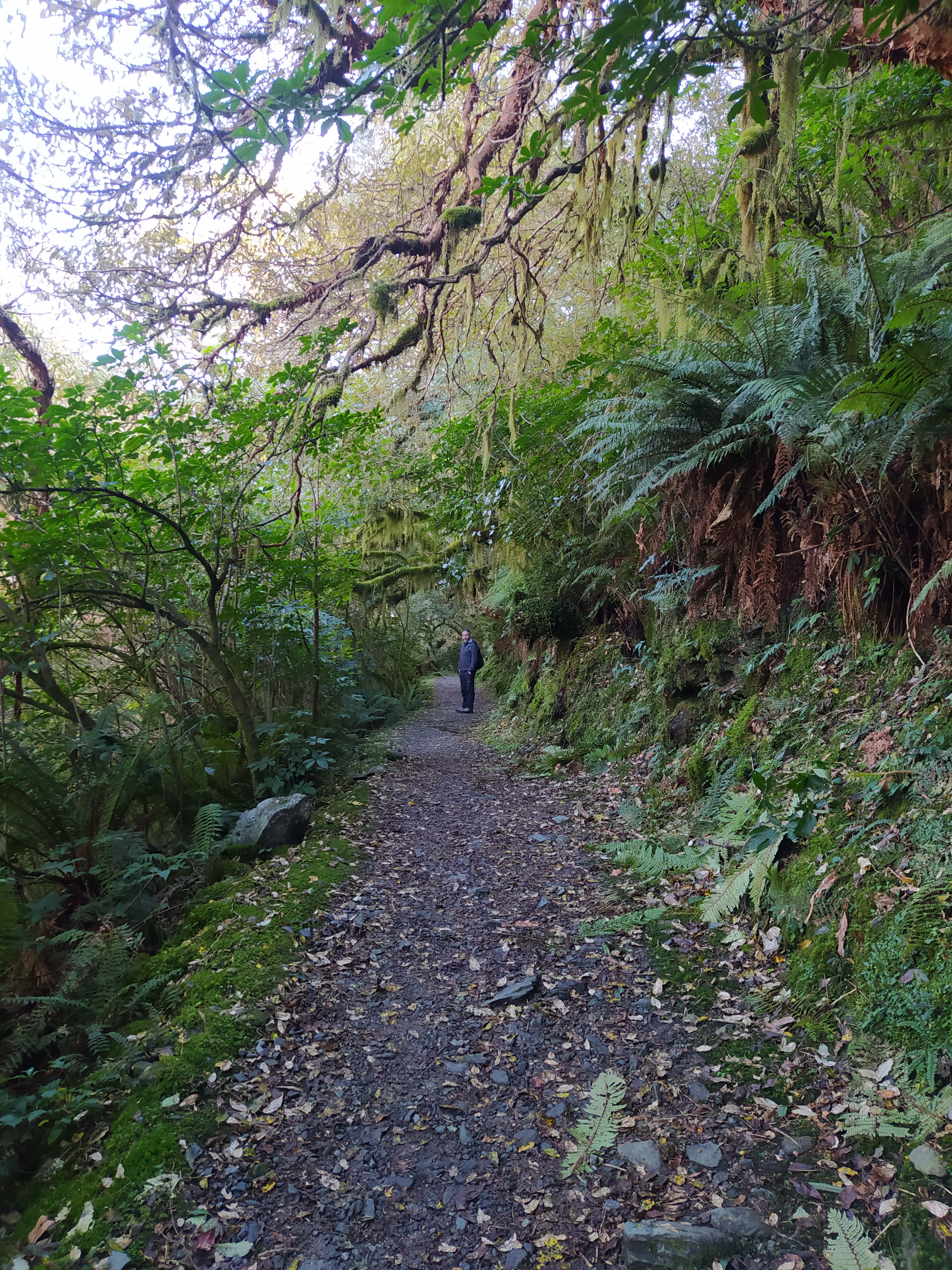 The path up to Key Summit
But, and I never ever get tired of repeating this, despite the layer of safety provided by the maintenance there's always one thing one should not underestimate when hitting the outdoors, especially in a region like New Zealand: W E A T H E R. So check, decide and prepare accordingly.
Key Summit Track is part of such a Great Walk, the Routeburn Track and sits in the midst of Fiordland National Park. Arguably, one of the most impressive places of New Zealand. Also, one of the most visited. The accessibility of the Key Summit Track and the scenery one is able to observe when walking it make it one of the most popular day walks in the park. So prepare for some more smiles, "G'day"s and "S'up"s to give and receive than usual :)
Almost there...
Frankly, up to the date of this walk it was only the second time I've walked part of any Great Walk. Being used to non-Great-Walk backcountry hiking in NZ I was surprised about how "busy" it was. That being said, admittedly I have absolutely no idea what busy really means for touristy tracks in New Zealand. I myself only arrived here just before the borders would close to international travel entirely in February 2020. We did this track at the end of the season (April 2022) and a couple of weeks before the borders would open again to most international travelers after over 2 years of being closed. So yeah, I may not be the best source (yet) on establishing if an area in New Zealand is actually busy or not.
Some nice 360° views at the top
One of the reasons for my lack of experience with NZ's Great Walks is simply that I prefer challenging remote tracks, off touristy areas. There are many, many, maaaaaaany awesome tracks to do in New Zealand, maintained or not. With the right judgment according to your individual experience level, you'll feel like Charlie in the chocolate factory. For every Great Walk there are very likely at least 10+ other tracks in the region with at least (!) similar scenery but not as much maintenance being done (if at all) and (far) more challenging. Including the luxury of not having to book way in advance or book at all.
Yet, this time it was the maintenance driving us to do the Key Summit Track. Darryn was still recovering from his foot injury and pushing limits step by step. At the point we were walking this track we as hiking dream team were primarily focusing on making more and more distance on easy terrain with elevation gain. This walk seemed perfect for this approach.
Which one is Pyramid Peak, any guesses? :P
The weather was in our favour which rewarded us with some pretty rad views once we hit the tree line. Most impressive to me, next to the mountain ranges of course, was the view of the glacial valley. Impressive and beautiful to be aware that not too long ago the same valley was fully covered in ice. Certainly not the first time I've seen something like this but amazes me every single time and always will, of that I'm sure.
Glacier carved valley beautifully unfolding right in front of our eyes
I recommend going a bit further than Key Summit to check out a viewpoint of Lake Marian, a glacial tarn located within the Darran Mountains. There's also a short nature walk around Key Summit which leads you through beech forest, bog pines and alpine shrubland. Well, and of course some nice 360° views of mountains. Have a closer look at the images and guess which one of them is called Pyramid Peak :P
Close-up of Lake Marian from the viewpoint
Fiordland is very well known to get a lot of rainfall. A lot lot. Before I've even found my way to New Zealand I was told by my kiwi partner about a very beautiful region there where the average annual rainfall is measured in metres, not centimetres like in most places anywhere else in the world. In February 2020, a storm with above average rainfall in a short period of time caused major flooding and landslides. As a consequence some of the tracks, roads, huts and campgrounds were destroyed. Some sections were able to be fully repaired, like the wee bit you see on the photo on the way up to Key Summit. Some huts and campgrounds were fully destroyed, like Gunn's Camp and the Lake Howden Hut. The latter is an additional 10 minutes walk from the sign leading you up the last few bits to Key Summit.
A section on the Key Summit Track impacted by the 2020 storm and repaired
So, instead of heading back to the car park straight away we took a little detour to check out the lake and the landslide. On the image you can see where the hut once used to be (I think). DOC decided to remove the remainders and with this closed the hut entirely rather than rebuilding it.
Leftovers of the landslide and spot where I think the hut once used to be
Surreal scenery at Lake Howden
Throughout the walk we started noticing some birds who were looking a wee bit like golf balls, for lack of a better description, and in behaviour very similar to fantails. Very curious and friendly. So back at the car and thanks to our newly acquired bird book I was able to figure out what kind of bird: Tomtit / Miromiro. And yes, yes, you may get more off topic information about birds in the future. I came to New Zealand not really caring much and almost being dismissive of smaller bird species (to all the birds and bird lovers out there, I'm sorry, I was naive and didn't know better). But luckily, those times are over and I've developed a very deep appreciation. Also, there's almost no way to be doing any sort of hiking in New Zealand and not become curious about the different bird species.