My Experience
It's my second time walking this track. The first time I chose to ignore bad weather warnings and went up the Lewis Tops Route anyway. No regrets.
It's not like I hope for bad weather. Obviously, a sunny day with a few pretty, fluffy clouds in the sky guarantees wider, most times, more enjoyable views. But from experience the times I've spent in the mountains under bad weather conditions have left marks I wouldn't want to erase. Have taught me valuable lessons and knowledge about myself and my environment. None of which I want to miss. Despite the simple memory of some of these experiences causing me to shiver.
I guess, it's a good combination of nice and not so nice weather moments that make the perfect mixture for appreciation.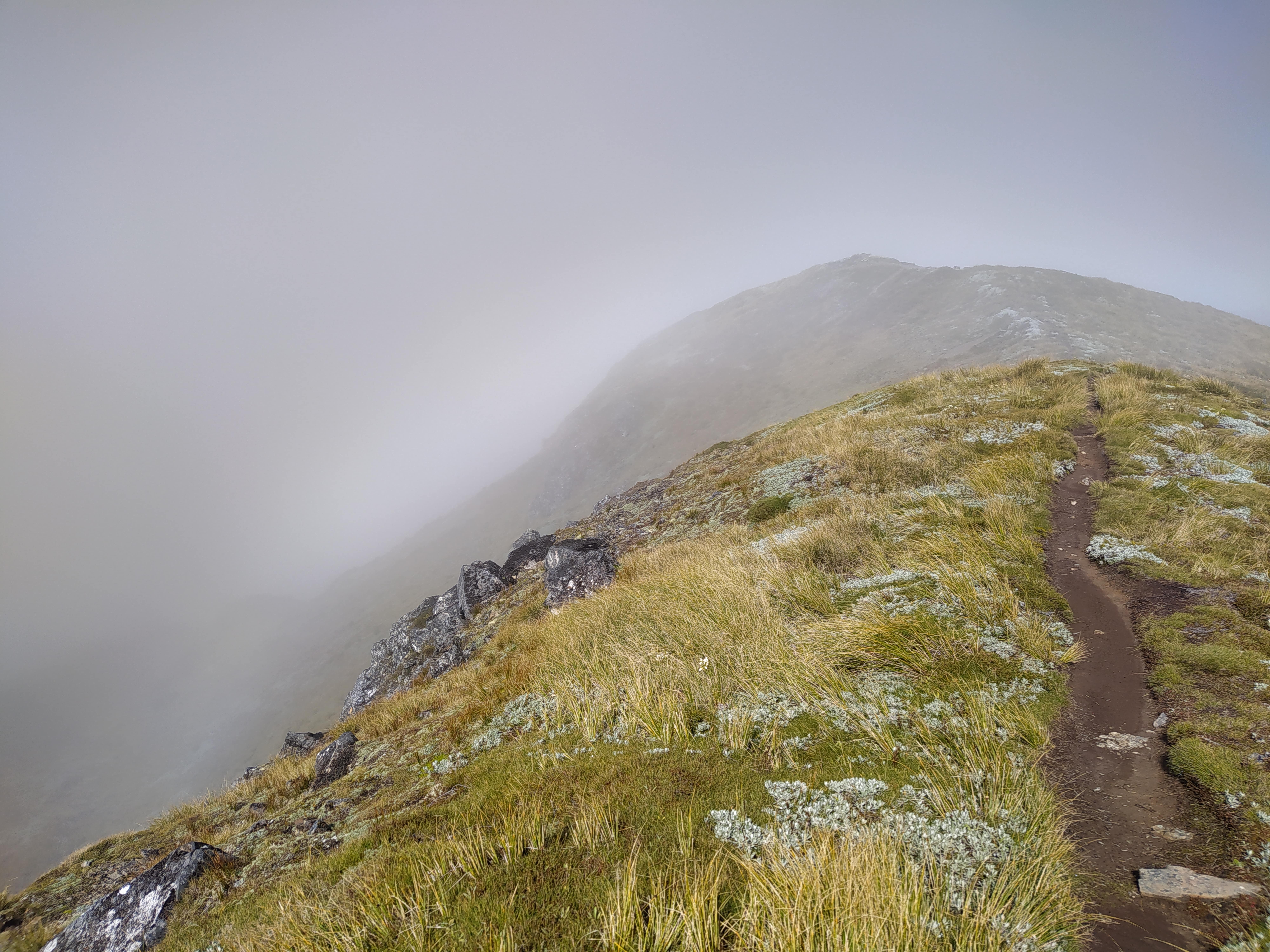 Path (and landscape) disappearing into the clouds...
This is why this track in particular is special to me: So far, I've walked it twice. Once in horrendous conditions and a few weeks after again in as good as it gets conditions.
The first part below the bush line leads through very thick and marvellous forest. Having walked the track in summer both times everything in it was lush green and vibrating full of life. Especially during my first trip, I was so fascinated by the beauty that it was hard for me to keep my eyes on the track. This was absolutely necessary given that the ground was covered in roots and wet from the masses of water that have been pouring down. Being hidden and protected by the trees, I almost forgot the wee storm that was going on around then. If it wasn't for the sound of the wind gusting through their branches.
The minute I reached the bush line this protection was gone. Now it was me getting the full force of wind and rain coming at me almost horizontally.
Everything was covered in clouds. I had no idea of what beautiful mountain ranges I was walking through. Something I would find out on my second trip and something you can enjoy by looking at the images. Needless to say that images can not nearly produce the feeling one is lucky to have when actually being within this kind of landscape.
Endless views on my first trip...
But back to the storm...
Originally, I intended to walk much farther that day. Once beyond the bush line my (admittedly kind of cheap) poncho started being ripped apart by the gusts. I could, at best, see as far as 20m. The wind was smashing the rain at me sideways which made it feel like tiny needles when it hit my skin. Considering I was aiming for a random point on the map that I chose ahead of the walk, would've simply turned around at that point and headed back anyway, it was hard to stay motivated to keep walking. That being said, my motivation was decreasing by the second. Knowing I was going to be back here in the near future, I called it a day and turned around.
I wasn't expecting to be back this soon but there I was again 2 weeks later. The weather being the opposite: Sunny, warm, fluffy clouds, no rain, barely any wind. Everything on the NW side of the ridge I was walking along presented itself in all its glory. And oh wow, the views!
...compared to the views I had a couple of weeks later
As soon as I reached the bush line, past another 100-200m of elevation, the views were so beautiful I sopped every now and then just to take it all in. What a gorgeous wee part on this planet I am lucky to walk across. So in awe, I caught myself tracing the lines on the lush green mountains in the distance with my finger in the air. Making sure to memorise this sight so I'll always have it available in my head.
See the "lines" in the mountains I was trying to trace with my fingers? :)
The SE side of the ridge remained covered by clouds. I could only fantasize about what it must look like beneath them. It made the walk all the more interesting. And another reason to be returning again some time. So are the bivvy a few more kilometres along the ridge and some peaks nearby that've caught my eye.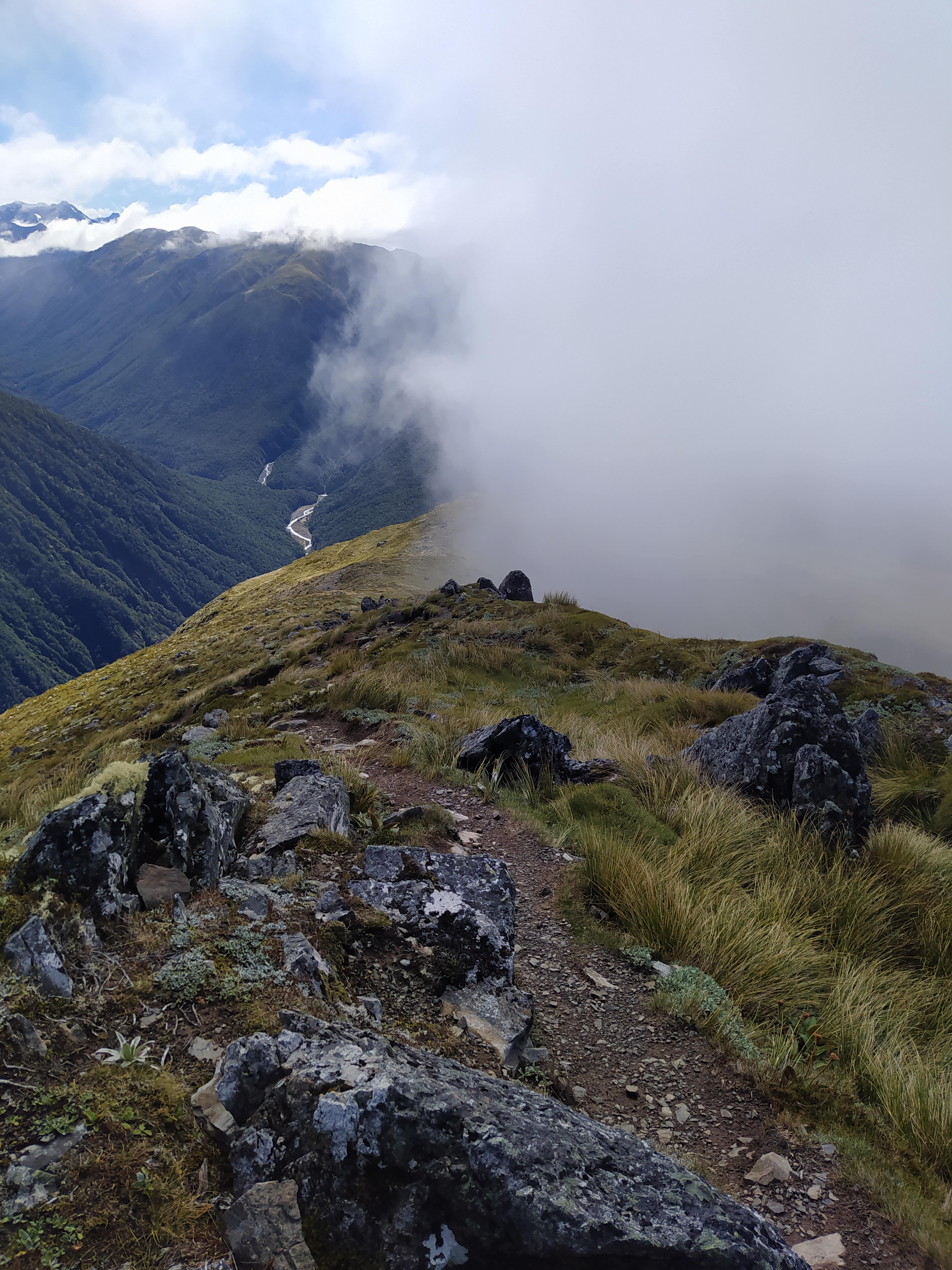 The two faces of Lewis Pass...
At some point the markers stop but the path is still well visible. I kept walking it for a wee while. There are a few tarns along the way, seemingly popping up out of nowhere. I decided to have a break at one of them before turning around.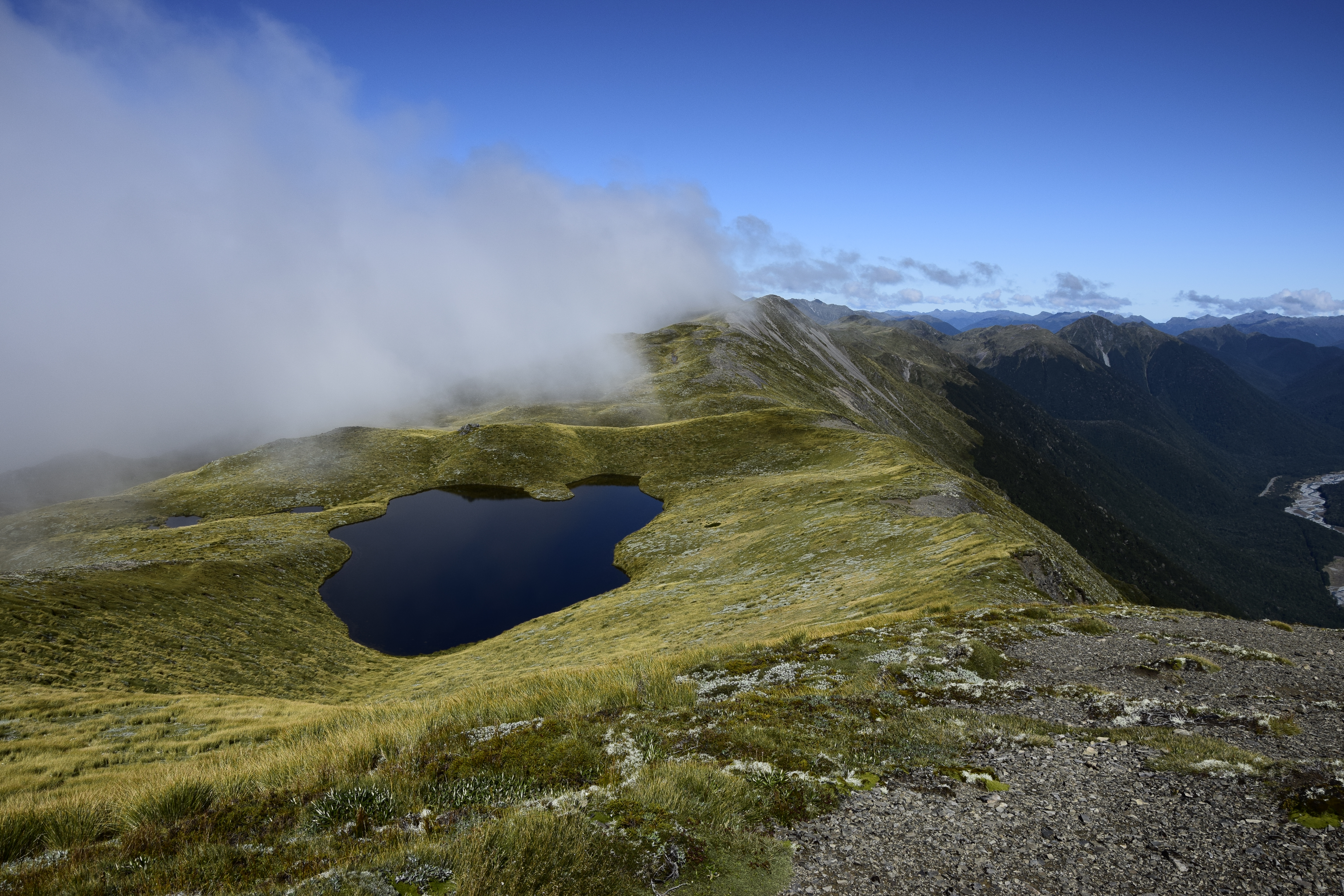 The tarn I chose to have a break at before turning around
I also checked out some geocaches on the way down. Just in case you're into it, there are some :)
This time I was actually meeting other trampers on the track. I was quite happy to be on my way back when they were just starting to walk their way up. It was a bit after midday and the sun getting strong. So good to be off into the protection of the trees again.
I wonder what this forest looks like in winter. How much of the green remains throughout the colder seasons? It gave the environment an almost mystical vibe. So alive I almost expected the moss covered ground to vibrate up and down to imitate a heartbeat.
If you pass through or stay in the Lewis Pass region, have a half day and a bit of energy (and maybe some fitness), I recommend checking out this walk. With a bit of luck regarding weather conditions you'll be treated with some rad visual rewards for a bit of a steep uphill tramp.
Note: Pictures are from both my trips, the one in bad and also the one in good weather conditions. Make sure to choose your tramping routes according to your experience level and weather conditions.