As this is my first book club update I'll be covering a few more books than the ones I'm currently reading. So there'll be two sections. The first one will talk about some books I've read lately, this is within the last year or so, and that I find to be worth recommending. The second section will solely cover the books I'm currently reading.
But before we get started a couple things about the book worm in me...
I'm a vivid library user. I used to love the idea of having my own wee library with shelves full of books in an apartment or house. With a comfortable couch or some pillows and blankets on the floor. Simply a nice space to fully immerse myself into reading.
However this idea never really aligned with other things I love doing, like travelling, getting to know different places, camping and living outdoors. Packed book shelves aren't really backpacking material :P Also the thought of most of the books sitting in a shelf, unread most of the time, made me, well, kind of sad. Usually the first thing I long to do after finishing an inspiring, moving and / or educational book or other piece of text is to share it. Which is why we're here.
When I first started long term travel I did so with a big bag full of unread books. I'm not kidding, I actually carried an extra bag full of books with me. Partially because back when I was working hours and hours at a desk, staring at a computer screen most of my days I either found myself too mentally exhausted to be motivated to read. Or I simply wanted to be moving, moving, moving rather than being still even more. Hence I'd start a book and it would take months, even up to a year, to finish it. So, by the time I gave up apartment and job, I had quite a collection of unread books, either gifted or purchased myself.
Once travelling, the ones I'd finished reading I would leave in hostels, campgrounds, huts or cafés or book booths or any other kind of place that invited and suited to leave a book behind for someone else to find. This was a win-win situation when moving around with a backpack: my pack would get lighter with every finished book and, hopefully, someone else would pick up this book some day and be inspired.
Currently, I've been living in the same place for a bit longer and am super lucky to have a local library network that has quite an awesome range. Since my to-read list is reaching the 200 mark and miraculously seems to grow with each book I read it'll be a while until I'm running out of input, I guess ;)
Just one more quick note: The titles of the books are also links to the books available on Amazon (where available also in German). If you click on a link and purchase the item, I will receive an affiliate commission. Don't worry, the price of the book remains the same for you.
Now, onwards with some interesting books I've read within the last year (or so)....
Books from the last year...
Lifespan: Why We Age and Why We Don't Have To, by David A. Sinclair, PhD
This one was quite an eye opener. Not only about the progression of scientific knowledge about aging, the prevention, even reversal of it but also about how discriminative modern societies are against people beyond a certain age.
This is one of the books that completely changed how I approach getting older myself and most importantly how I see the so-called elderly of our communities in a very positive way.
With insights into his scientific research the author gives an intro into its current state, some lifestyle adjustments one can already make to extend a healthy life, a look into the future and also weighs the ethics around what it would actually mean if the average (!) human lifespan increases to 100+.
Ocean: A Global Odyssey, by Sylvia A. Earle
This is a true coffee table book. When I went to the library to pick it up, as usual with my cute little 5 litre waterproof bag, I was so so naive. The second I found it in the shelf I realised it's never going to fit into my bag. So I carried it in both my hands. On the way home I got so curious and excited about the contents that I opened it and started looking at some of the impressive images and explanations. While walking (not recommended). Tracing the outlines of some of the pictured beings.
This book is a summary of the current knowledge about the Ocean. Most importantly it shows how important this massive body of water that makes up almost 3/4 of the surface of Earth, and all the life in it, truly are.
Sylvia Earle is an oceanographer, marine biologist, vivid advocate for the protection of our Ocean, and, as a fun fact, initiator for Google Earth displaying ocean data. I find it shocking how very little we know about the oceans and that there's better mapping of Mars or the moon than of the bottom of the Ocean of the planet we all inhabit. Crazy.
Girl, Woman, Other - by Bernardine Evaristo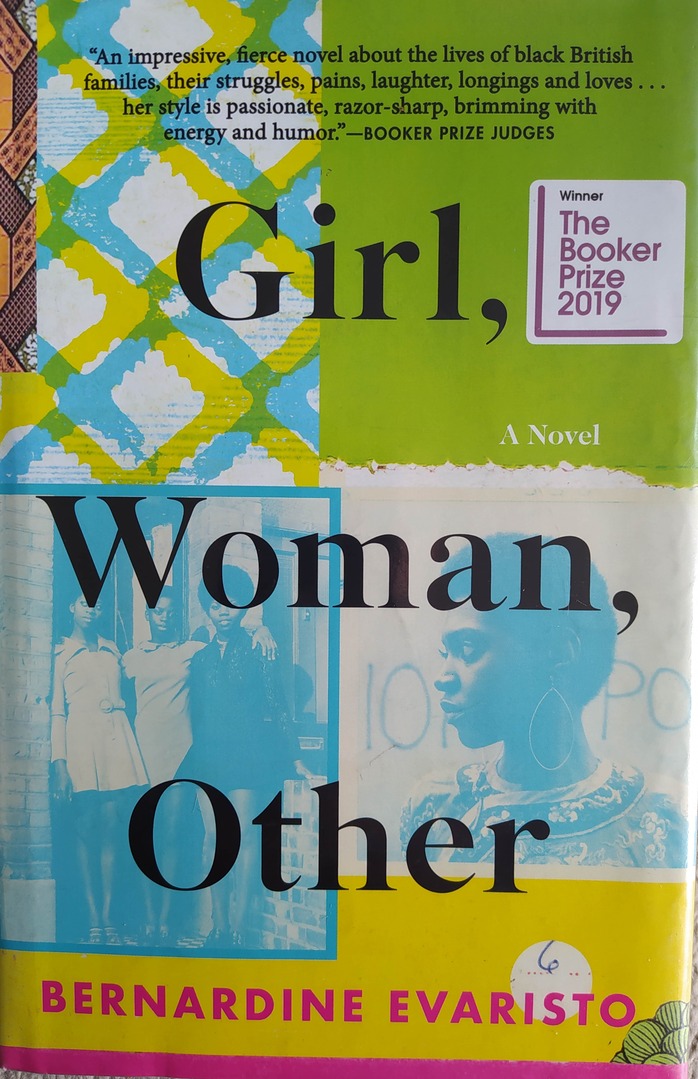 I was blown away and deeply moved by this novel. From the very first line I read I was sucked into the diverse stories of the main characters.
Each chapter resembles the point of view of one of the protagonists. All of them are somehow connected with each other.
Off to a very good start because I really like these kind of stories. The author's writing style simply did the rest. Everything about this book just deeply resonated with me. So much that every time I would start reading I could not stop until my eyes hurt. From reading page after page after page and yes, some tears here and there. And also reading a few hours after a day of throwing around code at the computer can be quite straining for the eyes. Nevertheless, the author simply hit every tune that needed to be played.
This book gives a voice to different identities in Great Britain, primarily Black, including LGBTQ+ and immigrant experiences. The kind of stories that should be told and read more of.
You'll definitely hear from me about more books by this author in the future. I'm currently reading another novel and have just recently finished one by her which I will get into with next month's update :)
The Book Of Hope, by Jane Goodall and Douglas Abrams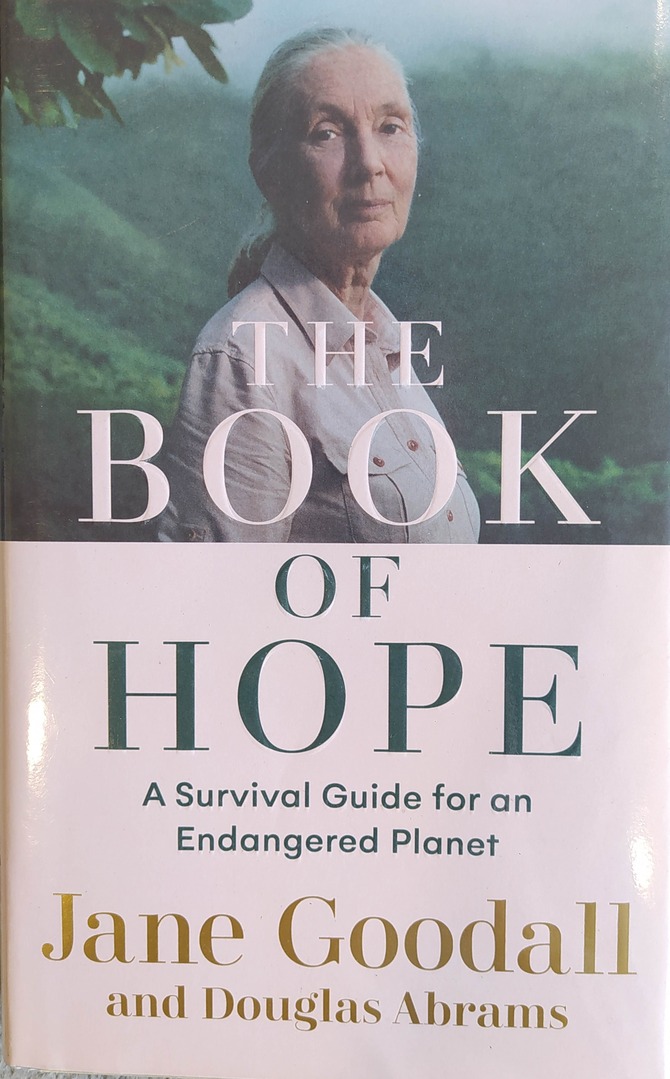 I'll admit, the title of the book was a bit irritating to me at first. But luckily I listened to a podcast with Douglas Abrams talking about the book, became super curious about the content and got over my unjustified prejudices.
The book is structured in a way that the reader becomes part of conversations between Douglas Abrams and Jane Goodall at their centre always how to approach hope, what it means and the importance of this word for us as individuals and as part of community.
These conservations took place before and during the beginnings of the outbreak of COVID-19. This gives the topics mentioned in the book an even higher relevance and adds a few imaginary exclamation marks to the urgency of them. One of them, of course, being climate change consequences inflicted by humankind.
Aroha: Maori wisdom for a contented life lived in harmony with our planet, by Dr Hinemoa Elder
Aroha is a Māori word and can best be translated with love, compassion and respect. In this book you'll find 52, one for each week of the year, life lessons. It emphasizes the importance of living in tune with the natural world and our communities.
These Māori wisdoms, whakatauākī or whakataukī when the original speaker is unknown, are offered in original language, with an English translation and the author's personal interpretation for today's times.
Fast Talking PI, by Selina Tusitala Marsh
Selina Tusitala Marsh is one of the first, if not the first, local authors I stumbled upon when arriving in New Zealand. I fell for her writing style pretty much with the first words I've read.
Internationally she may be best known by her poem called "Unity" which she performed in front of Queen Elizabeth II on Commonwealth Day in 2016. She covers the creation of the poem and experiences around the event in one of her children's books Mophead Tu: The Queen's Poem. This and Mophead: How Your Difference Makes a Difference were the first books I've read by her. Both of them I can highly recommend for children as well as adults.
Fast Talking PI is a first collection of some of her poems on topics such as ancestry, community and history.
Beyond Beliefs: A Guide to Improving Relationships and Communication for Vegans, Vegetarians, and Meat Eaters - by Melanie Joy, PhD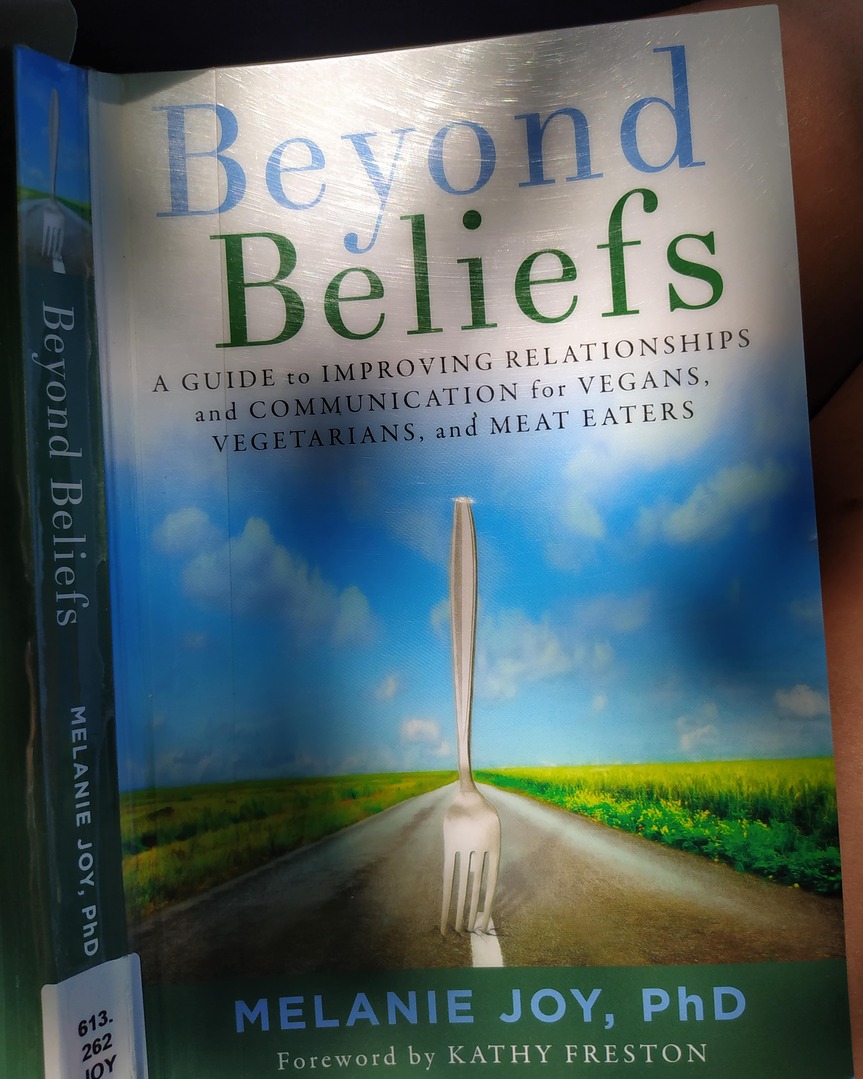 This is one of these books I wish I would've had when embarking on my journey to (unknowingly back then) becoming vegan. First, I went from being an omnivore to being vegetarian. I remember that in the beginning I would always try to kind of stay undercover because I did not want to cause any inconveniences. Back then I was often the only or one of the only vegetarians in social gatherings.
But oh my, all the conversations or well, some of them were more like confrontations by others, I was facing. Countless wannabe nutrition experts popping up from nowhere who suddenly seem to know so much better what I needed. All I simply did was stop eating meat, not even being vegan yet, but somehow that was reason enough to be questioned on avocado plantations in Mexico, soy in the Amazon rainforest, my protein intake. Just in general, a lot of the things I ate were suddenly being judged. While, on the other hand, industrial slaughter of sentient beings and the global consequences were socially normalised and accepted (or denied).
I would often find myself angry, disappointed, sad and, frankly, very disconnected from friends or family. Usually food is a major part of social gatherings. My personal decision on what, who, not to eat added a layer of complexity that I had not expected to that extent when making the decision with myself to begin with.
This is where this book comes in. It's helpful on so many levels. Far beyond food / lifestyle choices. Simply for communication in general, creating empathy and compassion for one another, focusing on common grounds, not differences.
What I'm currently reading...
Creative Confidence, by David Kelley and Tom Kelley
I love being creative and think that everyone is, whether they're aware of it or not. I also think creativity stretches far beyond the areas commonly considered as creative pursuits, like drawing, writing and alike. Creativity is shown in the way we approach and overcome challenges. How we use what we've learned and find new solutions.
Despite this thinking, I've always struggled calling myself creative or even a creator of some sorts. Even though I've been, just as an example, writing ever since I can remember. Or drawing. I started with self made comic books as a child, lots and lots of short stories. Writing poetry helped me release all kinds of emotions throughout my teenage years and still has that effect on me today.
This books tackles some of these numbing thoughts of self doubt that may very often keep us from being creative. It also provides useful tips on how to open up towards and get more creativity into your daily life.
Thrive Foods: 200 Plant-Based Recipes for Peak Health, by Brendan Brazier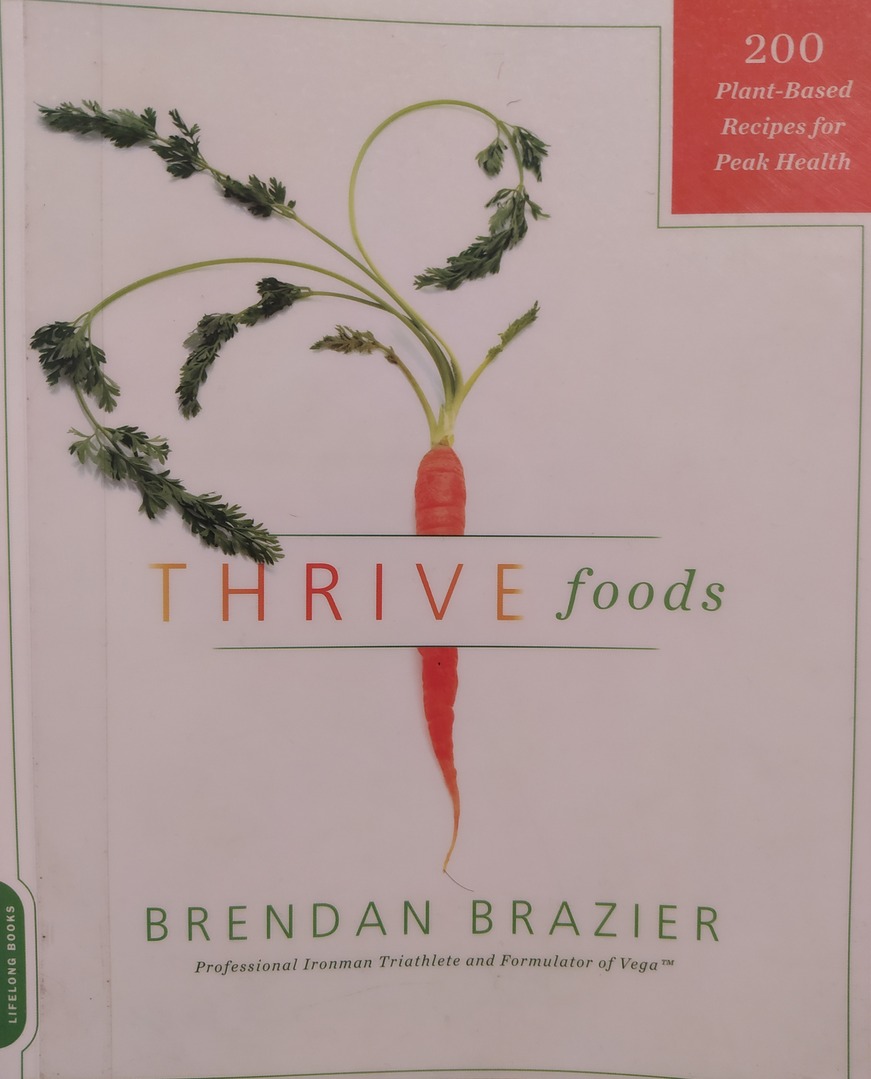 More plants, more plants, baby. For the ones of you reading this and rolling their eyes, yes, there will be more books like this - that being books about and promoting a wholefood, plant-based diet - in this book club in the future.
Why?
Because animals, nature in general, planetary and human health are some of the most important topics to me. Additionally, current scientific research suggests that overall a plant-based, wholefood diet is the single most effective and healthiest thing we can do for us as individuals and to minimise the devastating impact we're having as a species on our beautiful but struggling planet.
Brendan Brazier is an endurance athlete providing insights into his experiences becoming a and performing as vegan athlete in multiple books. This one in particular additionally provides an extensive collection of recipes for plant-based meals.