The Basics
In the following paragraphs I'm giving you an overview of how and where to book campsites. I'll also get a little into preparing yourself for the track.
It is mandatory to have all your overnight stays booked in advance. They will ask you at the entrance of the park for your reservation receipts. This means you won't be able to enter if you can't provide this proof.
In the location map above there's a marker pointing to the Welcoming Center of Torres del Paine National Park. That is where we parked the car and started the track. The CONAF tourist office, where you can buy the entrance tickets, is located about 7 km before this.
There you can also get a paper map and check out the weather forecast. Additionally, there should also be daily updated weather forecasts in each camp.
Tracks Overview Map in Torres del Paine NP Welcome Center
The entrance fees were 21,000 CLP for adults from nations other than Chile and 6,000 CLP for Chilean citizens. This information is from 2019. Be aware that the prices are usually increased every other year. You can find more information here. The park's official website is this. Make sure to check it out beforehand to be well-informed.
As a little side note: We did the whole track only having our reservations and the wee little paper map. No GPS tracking via phone or digital maps. The entire O-Circuit is very well marked. That being said, I always recommend taking an additional tracking device with you.
Making reservations at the camps
In addition to CONAF there are 2 companies that manage refugios (mountain huts) and campsites in the park: Fantastico Sur and Vertice. Both of them are private and, let's be honest, super expensive. Camping outside of authorized areas is forbidden, so basically you have no other choice.
Please be a sensible hiker and don't do the track if you plan on ignoring the restrictions and doing wild camping. There are sheltered sections for cooking at the campsites. You won't have these when camping in the wild. Huge parts of the park have burned down in the past because visitors underestimated the winds and ignored restrictions to start with. A little spark can turn into a disaster. Don't take a chance.
View of the Torres del Paine torres from the road into the park
Fantastico Sur owns campsites at Central, Cuernos, Chileno, Serón, Frances.
Vertice owns campsites at Paine Grande, Dickson, Grey, Los Perros.
The campsite at the Paso ranger station is owned by CONAF and free.
The W-Track and the O-Circuit are very popular tracks, the O-Circuit being far less crowded. I've heard from people having to book online 6 months in advance to get spots on the campgrounds.
We arrived in Puerto Natales, a little village about 120 km away from the park, 2 days prior to starting the track. We didn't do any online booking. We basically decided to do the O-Circuit instead of the W a few days before that.
We went into each of the offices in town and booked our camps. During the first part of the track, we met 7 additional hikers who all, except for one, hiked within a different time schedule. We had the first days of the track almost entirely to ourselves. To me, this was a major part of the experience. Everything felt a bit more remote.
Once we came into the parts that make up the W, campsites and paths became super crowded. If you want to make sure to get spots as you like and don't want to take chances, I'd suggest to do the booking online. This is a page where you can do all at once. I've never used any of the booking web pages though, so I can't tell you anything about user experience, etc.
In general, April is kind of out of season for tourists. The weather is said to be more moody, temperatures are colder, there are higher chances of snow and rain. Visitor numbers tend to be fewer. Perfect for hikers and those who don't care about uncomfortable hiking conditions.
Getting prepped and ready
We originally planned on doing the hike in 8 days, 7 nights.
These were the campsites we booked: Dickson, Los Perros, El Paso, Grey, Paine Grande, Frances, Central.
Camp Serón was closed due to maintenance. So we had no other choice than skipping that camp and intending to do over 30 km the first day. As mentioned in the beginning, we ended up doing the track in 9 days. We didn't get as far as 30 km on the first day either. We also never put up camp at Frances. But more on that later.
We bought all our food and did the packing in Puerto Natales, a day before heading to the park. Our food packs included breakfast, dinner and snacks for 2 people for each of the 8 days. Check out my food and gear packing lists for suggestions on how or what to pack.
Make sure to pack enough clothing. I can recommend, at least, a second set for the campsites, so the rest can dry if it gets wet throughout the day.
Getting there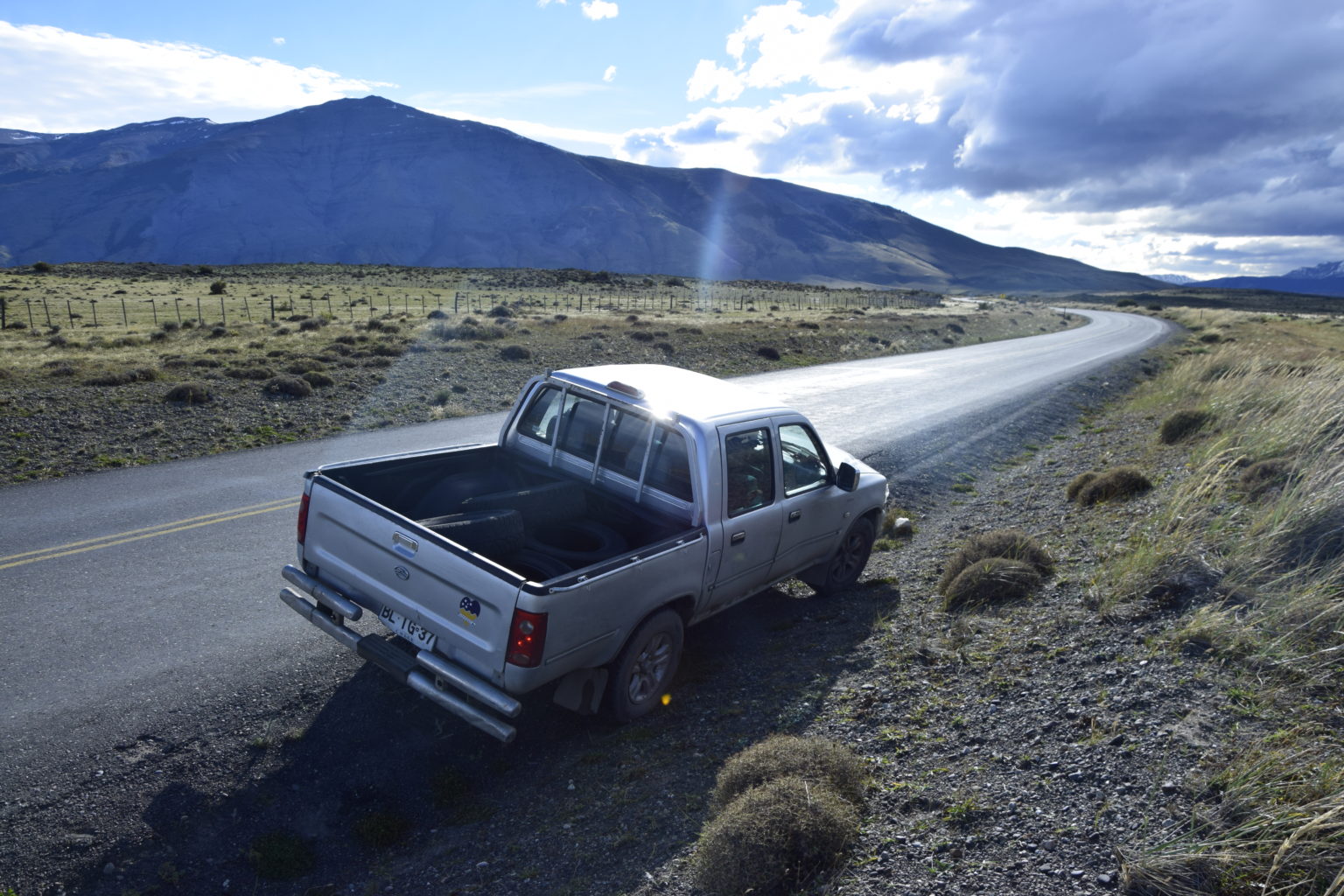 Quick break on the way to the park
There are regular buses between Puerto Natales and Torres del Paine NP.
I had a car, so we just headed to the park the day before and slept the night in the car. We parked it in the major parking area by the Welcome Center (see map above) and left it there for the time we were gone. Parking was free.
Before we finally got to the parking area, we went into the ticket office at the park entrance to get the tickets. I've already mentioned the weather forecast that was displayed there. I remember exactly the moment looking and "analysing" it...
90 to 100 km/h winds, a mix between sun and clouds, heavy rain. That's what it said for the following day. The first day of the very first actual multi day track we ever attempted. It even had little drawn pictures and numbers, just in case. What I also remember from these moments is how I looked at and said to an understandably doubtful looking Christian: "It won't be that bad. That's probably just the worst case scenario."
These moments....
When you look back and your present you just wants to look your past you in the eyes, shaking your head saying "What an idiot you were"...
That weather forecast was far off from a worst case scenario. But let's get to that.
Step by Step
I've summarised facts, difficulty rating and personal stories of each single day on the following sub pages: