My Experience
Big beautiful brown eyes stare at me from the front passenger seat when our taxi driver releases a joyful giggle. He just raced the car passed a tiny house and explains to us that he saved us the fee for walking the track. Not sure about whether I like that or not I keep wondering what his little toddler must be thinking, eyes fixed at me for a good part of the 30 minute ride. Or maybe I'm the one staring even? Fascinated by the warmth and curiosity glowing from these eyes paired with a heart warming smile.
A few minutes later I wave goodbye to the little one and get ready to lift that monster of a backpack that seems to belong to me out of the back of the car. The taxi driver tried to be nice and get it for me at first but I make sure that he doesn't have to lift it. Telling him that it is way too heavy. He smiles and asks "¿Eres muy fuerte?" I try to answer something along the lines of "Either that or incredibly stupid." He doesn't want to leave without lifting it from the ground to see how heavy it really is. Picking it up a wee bit he puts it down again, giving me an almost shocked look followed by a giggle. "¡Loca!"
Off I go with my monster backpack...
It doesn't take long for me to agree with him on that. A few minutes into walking the track I speak numerous curses to myself and seriously question why I had to pack this or that. Stupid heavy backpack training.
To explain a little: For multi day hikes I always pack a heavy backpack. I take it as a sort of training with the intention to get stronger and essentially faster with heavier packs so everything with a lighter pack becomes much more enjoyable. The thinking behind this is if I can carry a heavy backpack for days with items I don't actually need anything lighter with essential items will be easier. So far it's worked very well.
What made it just a little different this time was the high altitude. The Ausangate circuit was definitely not my first trekking at high altitude but it was the first multi day track being fully packed. There were moments in the beginning when the weight of my pack felt so heavy, putting pressure on my chest that made breathing even more of a challenge than it already was given the altitude.
Good then that we only had a very short walk ahead of us this day.
The landscape seemed peculiar. We were walking across scarce looking, what seemed to be farmland with a few hills here and there. We came by lots of llamas and will continue to do so over the next few days. Nevado Ausangate was right in front of us. Centre of attention, us walking straight towards it. Normally, I'd estimate this peak to be a 2,000er, maybe a 3,000er. Not here. Not when I already find myself at an altitude of over 4,300m.
One of our llama friends...
Altitude puts everything into another perspective. Altitude can be this humiliating invisible force. You think yourself to be fit? Think you can just walk as quickly as you're used to with a big backpack? In comes altitude with a nasty grin. Distances seem much longer, things feel heavier, the air much thinner.
First glimpses of a somewhat surreal landscape...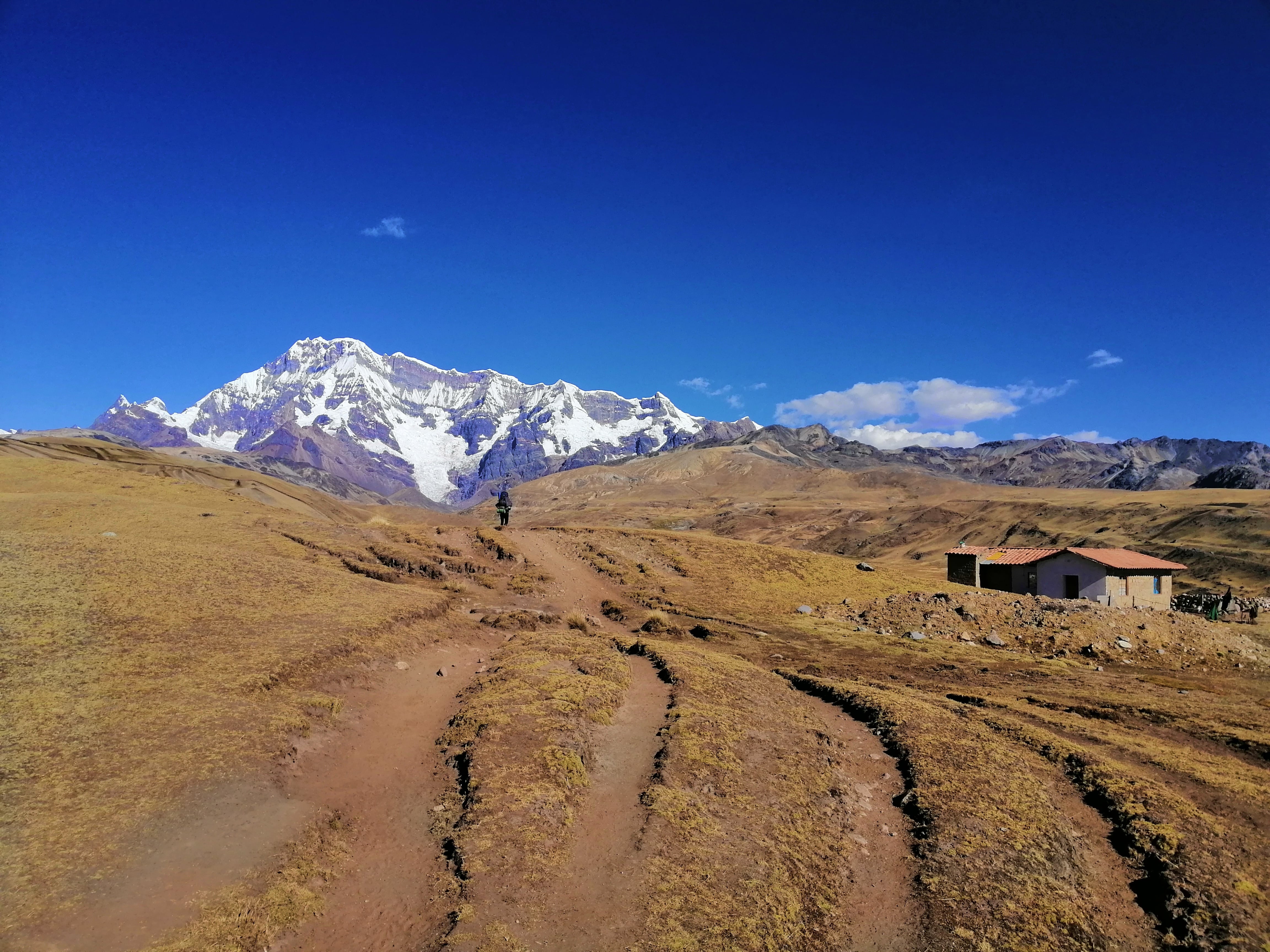 ...with Ausangate always in sight :)
When we arrived at the Upis campsite we saw some recently built but unfinished cabin like house. We walked towards them to look for a nice spot for our tent. A man we met while doing so was telling us about the plans to create serviced campgrounds all around the Ausangate circuit track to drive more tourists to this place. Darryn and I would later agree that we're quite happy to do the track now before tourism may overtake the remoteness of this beautiful place.
The man also offered us to sleep inside one of these shelters for a wee charge of a fee. We'd still be sleeping on the ground as there was literally just the outside of the house and a roof. But it gave us a bit of protection from the cold of an Andean winter's night and saved us having to take down a moist tent in the morning. So we put our mats on the ground and moved in for the night.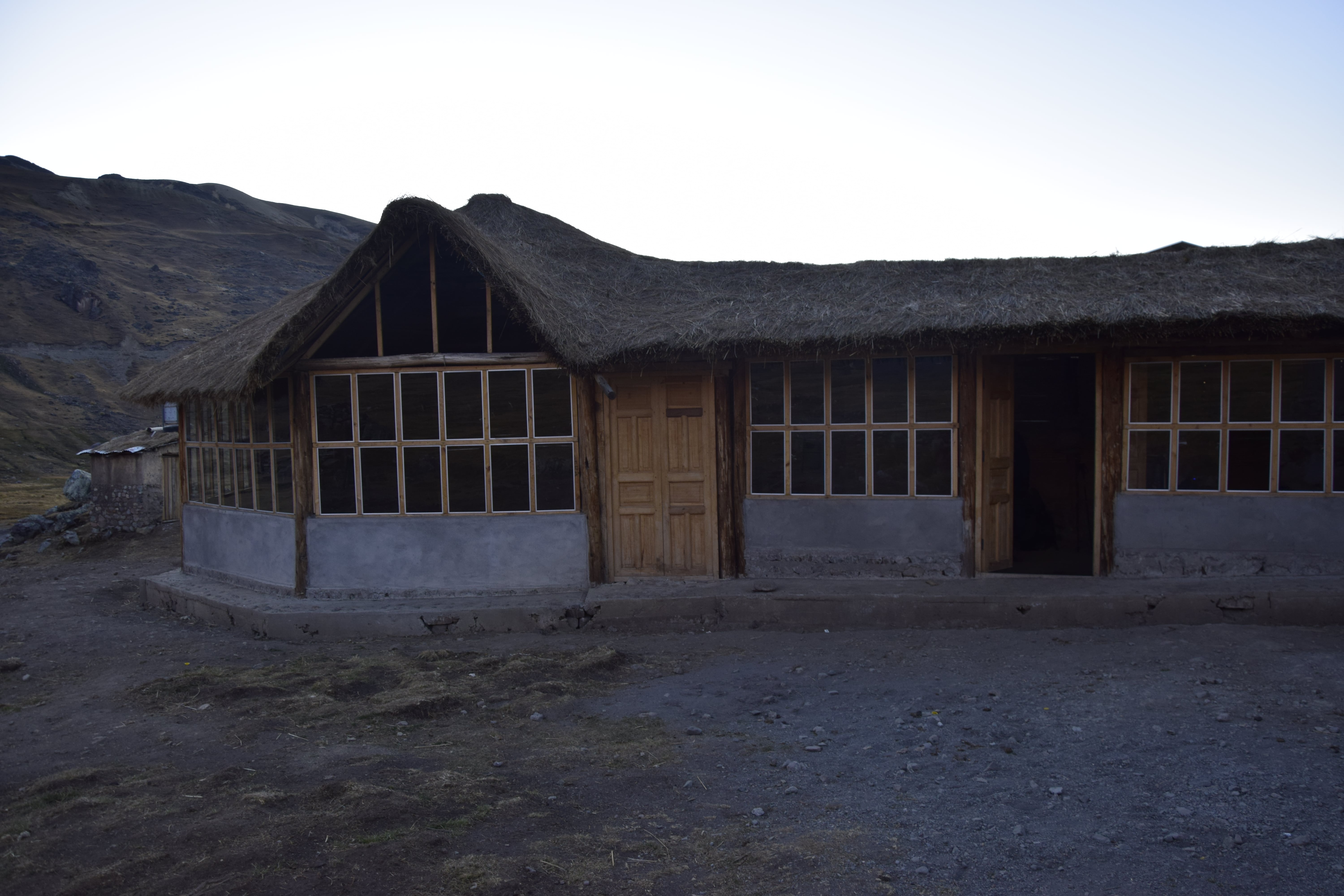 Our comfy stay for the night :) It's empty inside...
The toilet options here were two sheltered holes in the ground. I call installations like these next level leg workouts. Next level because you have to focus on aiming for the hole while simultaneously squatting down. No room for failure or legs giving in while releasing what needs to be released. The joys of hiking ;)