My Experience
I got up for a loo during the night and was able to watch a full moon above the mountain. Although moments before I was lying in a warm sleeping bag, nice and cozy. Being a little bit annoyed about the fact that I have to pee and get out into the cold. But I peeled myself out of the sleeping bag, put on some clothes, stepped out of the shelter and then saw a mesmerizing lit up mountain outline underneath a pretty moon. In that moment everything was just beautiful and I was quite happy that I "had" to get out. Midnight toilet walks when camping under a beautiful night sky get me every single time. Ausangate under the light of that full moon is yet another level up.
It's short glimpses like these when appreciation really kicks in. When I start to become incredibly grateful to be in a place like this with just a few things. When I would never ever trade my spot in a sleeping bag on the ground, having to get up in the cold for a loo, with a warm apartment in a city, flushing toilet literally in arm's reach.
We wake up to a beautiful sunny and cloudless day. Thanks to a night on the ground of the future accommodations packing up is quick. Just our sleeping bags and mattresses. We prepare ourselves some coca tea for the day and have a small breakfast while observing Ausangate with increasing awe. Then we're off to our first full day of hiking.
Landscape remains peculiar, especially with the almost cloudless blue sky as a bit of a contrast
Speaking of coca leaves, I recommend taking some with you for the track even if it is just as a backup in case you or somebody else experience symptoms of altitude sickness. Just a few leaves brewed as tea may already be of help. Since I've spent quite a bit of time and have done trekking at higher altitudes I wrote an extra article on the topic with recommendations, what to look out for and some more information. You can read it here.
We're seeing many many llama herds. Much of the land we're hiking through is used by locals as farmland. For communication it can be helpful to know some Quechua words. I remember wishing to have known at least some basic ones. Most locals we met only knew a few words of Spanish.
Many, many llamas along the way
Maybe a wee reminder here to be respectful and humble. Always carry everything you bring in back outside with you. Be friendly. Sometimes when being a visitor in any place it seems easy to forget that others are living permanently in places we only get a temporary glimpse of.
There are three passes we will be crossing throughout the entire track: Abra Arapa, Abra Palomani and Abra Khampa. Today we'll be reaching the first of these: Abra Arapa. It sits at an elevation of 4,850 m and is only about 3.5 km from our first campsite.
Darryn chatting with one of the helpers of the other hiking group at Abra Arapa
When we arrive at the pass we're meeting a guided group that is doing the track in the same direction and almost the same way we are. We'll get to know them a bit better in a couple days but more on that when we get there. On the photo above you see Darryn chatting with one of the helpers of the group. He's the one responsible for the horse that walks with them in case one of their clients gets altitude sick and can't walk on their own anymore.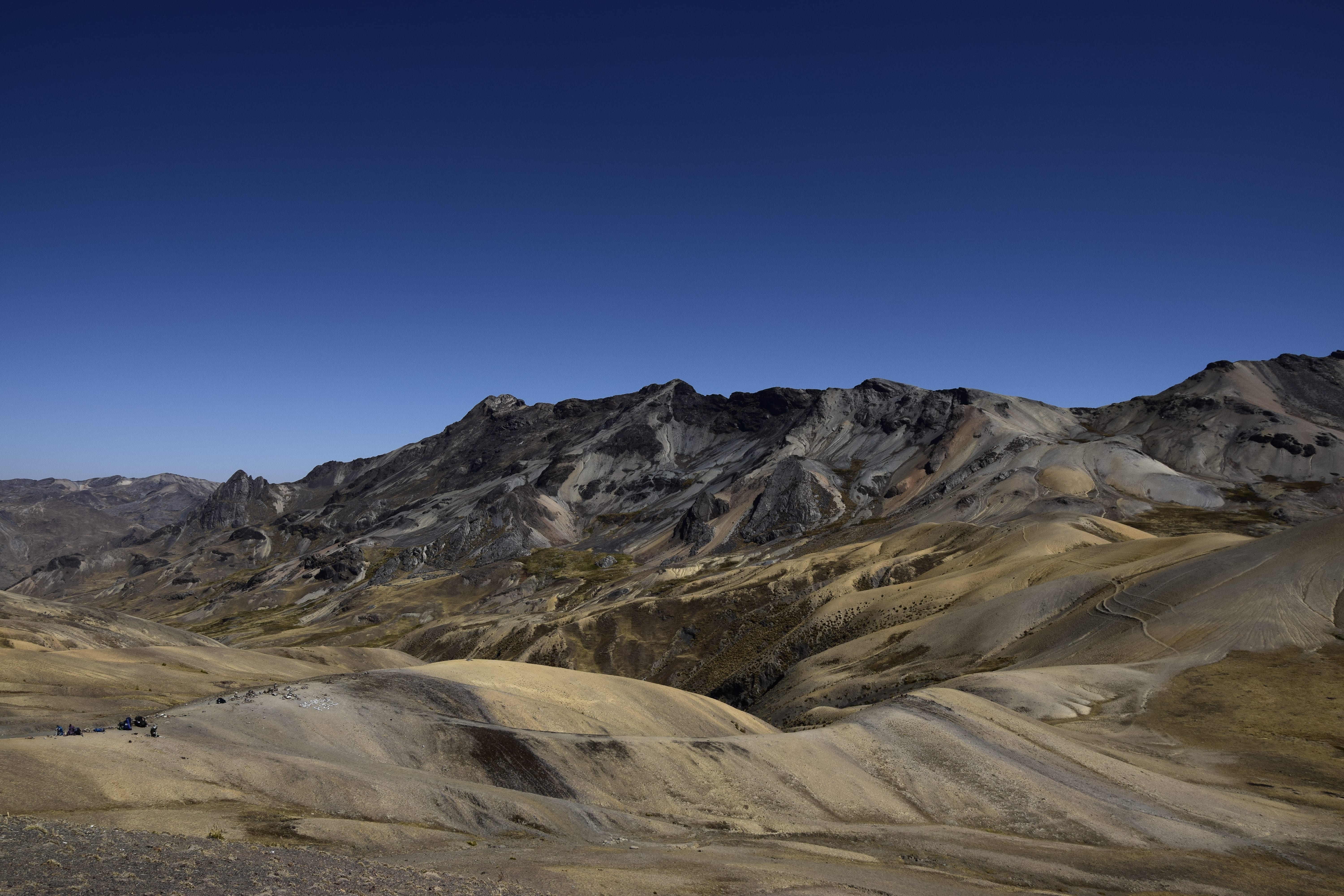 View from Abra Arapa. You can see ours and the groups' backpacks in the lower left corner.
It's pretty much just us and that group while we're doing the track. We're meeting two other guided groups halfway through but they're walking the circuit the other way around. That in combination with the peculiar and fascinating landscape makes me feel like I'm in a land far, far off from any civilisation. Pretty cool.
Coca tea break with pretty rad backdrop
When we reach Laguna Pucacocha we discover some wee self made tent shelters. Small walls made out of rocks. Being pretty exposed in the open field we take the hint and put up our tents close by one of those. It doesn't take too long until a farmer pops up out of nowhere and introduces himself. He's asking us for a small fee to stay for the night which we pay. I'm more than amazed as to where he came from. The landscape seems wide open and scarce with nothing where someone could live in sight. Nothing but one tiny house that looks empty and abandoned. I watch him disappear into the hills shortly after our encounter. Mysterious.
Our campsite for the night. Laguna Pucacocha is in the background.
Our fellow hiking group has built their wee empire a few hundred metres from us. With a portable toilet tent, a cooking, eating tent and smaller ones for the night. Speaking about toilets. There are none here. I recommend bringing some toilet paper and a shovel for this (or any other multi day) trip.
View from our tents. You can see the other group's camp to the right. Behind the moraine sits the glacial lake you see in the next photo.
Once we set up our tents we grab bottles and thermos to check out the water situation. We have a glacier in sight and head for the lake at the bottom of it. We're lucky, the water seems to be good enough for cooking and drinking. We use our water treatment drops for the water anyway to not take any chances.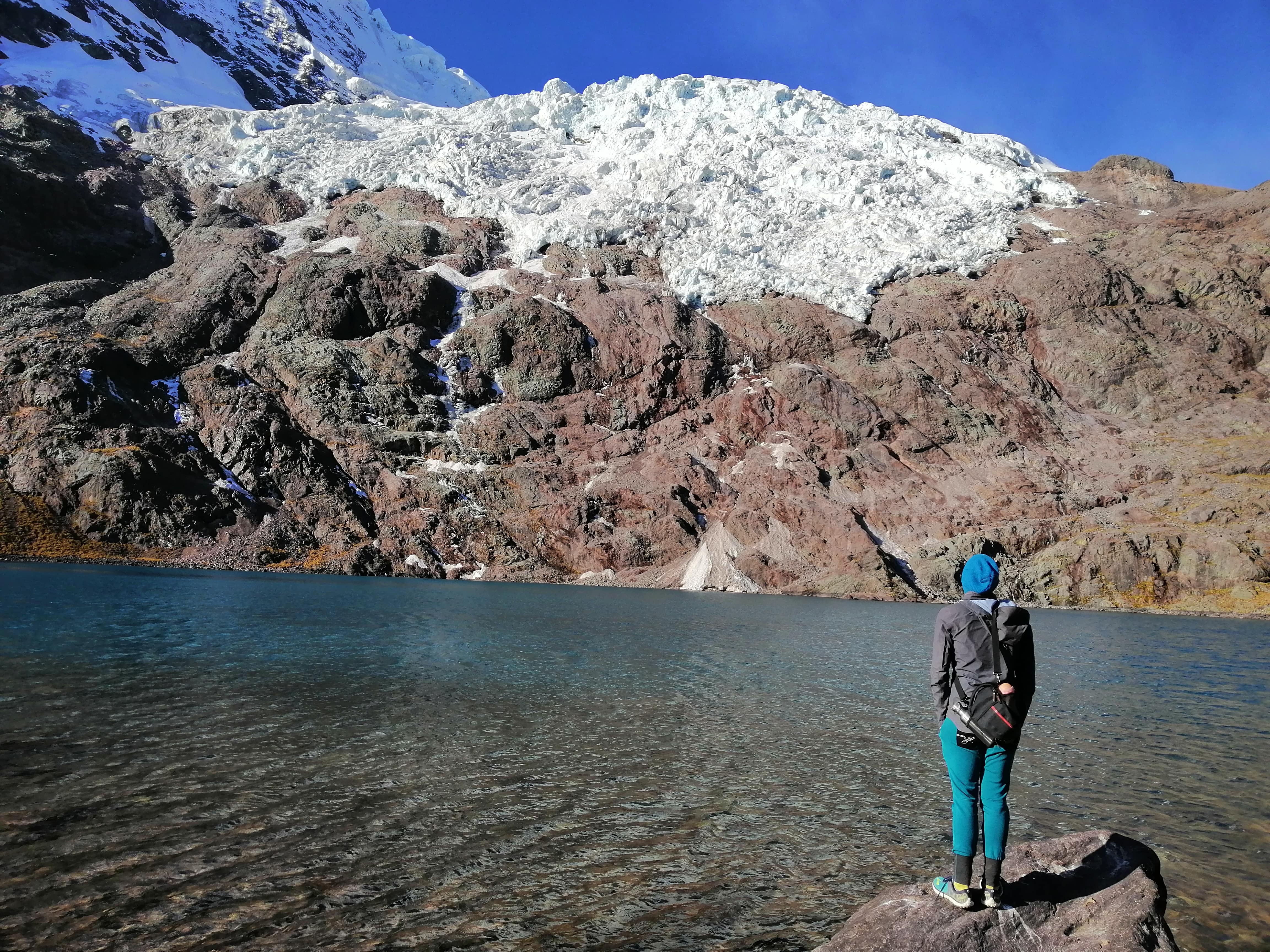 Lake at the bottom of the glacier. Our campsite is a few minutes walk from here.