My Experience
After I got up and out of the tent in the morning I make my way to the glacial lake again to get some water for breakfast and fill up our drinking water for the day. On my way I see some of the crew of the guided group pack up and get moving. I've figured out that they leave a bit earlier than anyone else to set up camp at the day's destination before everyone else arrives.
On most of our hikes in South America, Darryn and I used two tents, one for sleeping and one for our packs. Both tents are too small to comfortably fit both of us and our packs if used standalone. Since we're both used to carrying full equipment for ourselves doing solo hiking anyway we didn't mind the extra weight for a bit of luxury. That's why you'll see two tents on most campsite photos.
One of the things I like about multi day tramps (= hikes) is the moment I get into the simple routine living outdoors and primarily hiking for a wee while can offer. This usually happens with the second or third morning. During a hike like this our morning routine generally is something like this
Ideally get up with the sun as nights are very fresh. We're doing the hike during winter. Nothing nicer than crawling out of the sleeping bag in the morning and catching the day's first warming rays of sun on my skin.
Needful things such as getting rid of body fluids and alike ;)
Off to the water source to get water. In this particular morning, off to the glacial lake. It's moments like these when, if hasn't already, a feeling of contentment, gratitude, appreciation, kicks in. I mean, sure it takes a bit to warm up in the mornings. It also took a bit of walking just to get to this place to start with - which is the whole point, isn't it? But I am walking to a glacier to get water. Water from the lake that's been created from the melting ice of the same glacier. Thousands of years of sediments, too small to see with my eyes, running down my throat when I drink it later on. Life seldomly gets simpler and better than that.
Put stuff from the inside of the tent outside to dry or air out (if it's not raining), e.g. sleeping bags, mat.
Have breakfast. While doing so boil water for and prepare some coca tea or maté for the day. In Patagonia (and now here in New Zealand), Darryn and I would often make lemon, ginger tea with honey (I was vegetarian back then, not yet vegan). Especially when the temperatures are lower a nice hot beverage either during a day of hiking or when arriving at the day's destination is quite an awesome luxury to have.
Pack up our backpacks.
Check the campsite so we don't leave anything behind and off we go :)
Packing up camp in the mornings...
Today's walk is pretty straightforward and a short one. We walk alongside the mountain range and it's glaciers through a valley that was probably carved by them when they were still massive, white giants. The landscape just keeps getting more and more surreal. A big part of this is the fact that we're consistently above 4,500 m of elevation and instead of snow there are all kinds of colours and rocks. Rocks that grow sideways, curved, red like fire, black like coal, rainbow colours, and in the midst of it all the white and grey of glaciers.
Surreal landscape...
...with crazy geological formations...
Over 70% of the world's tropical glaciers are located in the Peruvian Andes. Tropical glaciers are glaciers found in the tropics which are the regions around the equator stretching from the Tropic of Cancer (Northern Hemisphere) to the Tropic of Capricorn (Southern Hemisphere). These glaciers are some of the most obvious signs of human inflicted climate change and have been retreating in alarming speed. Research has shown that some of the glaciers are currently retreating up to 40 times faster than 3 decades ago. (See this article for more details and resources). Many people living in these areas depend on the waterflow of the glaciers most importantly for drinking water and hydropower. The vanishing of this natural supply is already putting people and their lives at risk and will very likely cause more conflict within the next 2 decades if no solutions are found.
A retreating glacier just before we arrived at Laguna Ausangatecocha. I wonder how much is left of it now...
Getting a hint by Darryn who's lived in Peru for a while some time ago I already knew about the state of Peru's glaciers before we started the Ausangate track. This knowledge combined with walking across a very dry looking landscape - we did the track during dry season - hovered like a big grey cloud over an otherwise very beautiful experience. That being said, I looked at some of the glaciers - despite their to me fascinating beauty - with a sort of sadness asking myself if this particular glacier may still be here in 5 or 10 years. And if not, what this means for the communities living here.
Next to the incredible landscape there are two reasons why to me Ausangate is still one of the most memorable multi day hikes. One is that I do remember already falling very, very deeply for Peru during these days, even though I'd only been in the country for less than a week by then. And two, the mixed feelings of being in absolute awe with nature, the people living in these mountains and the brutal awareness of what we as a collective are doing to places like these, have left a permanent mark.
That is another thing I appreciate about hiking in the mountains: Life slows down. Distractions are reduced. Solitary moments. Lots of time for reflection. Even when hiking with a group there'll usually be stages when you're just walking by yourself. Just you and your thoughts. Only that you do not have to do anything but walk to your next camp and be anywhere else but a somewhat safe spot for the night. It's liberating and to me personally in the beginning a bit overwhelming at the same time.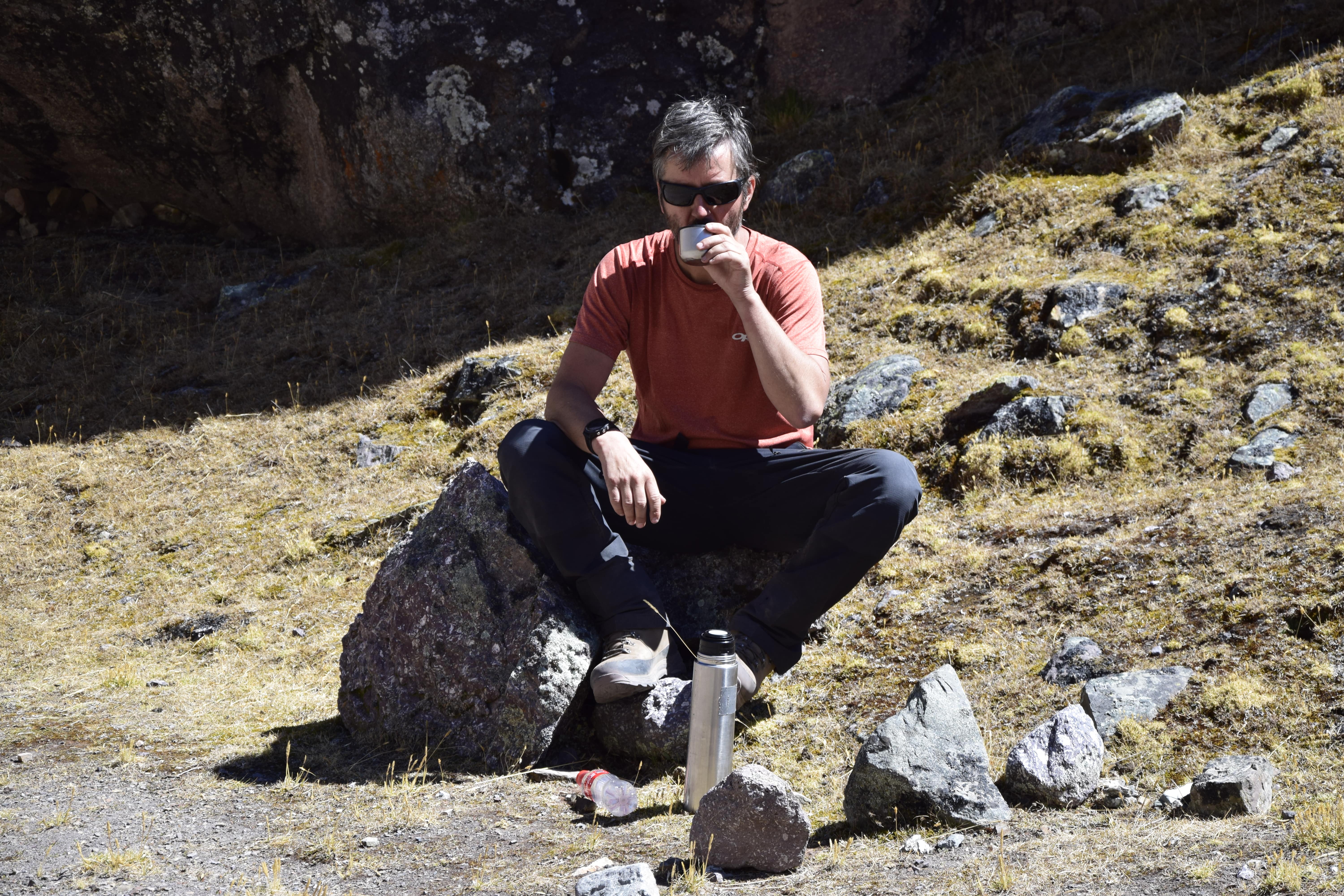 Casual coca tea and photo stop :)
As mentioned above, we specifically opted for a short distance and decided to camp at Laguna Ausangatecocha. One of the reasons was that we had no idea how busy Ausangate would be. We did know that it's a track frequented by guided groups. Generally speaking guided groups usually come with lots of equipment, a few people and lots of luxury given where we are. From personal experience a very remote and solitary place in the mountains can become a wee village within only a few moments when guided groups appear. It's fascinating to watch and every single time my admiration for the guides, helpers and animals who carry all the stuff from one place to another for others grows exponentially. On the other hand, most of the solitary magic is lost with these little villages. There's something to being solitary in the mountains, even as a group of two like Darryn and I were, that makes it entirely different and incredibly special to me.
On the way down to Laguna Ausangatecocha. The house you see in the distance is the shelter + toilets.
One guided group is passing through and having a break while we're having maté at Laguna Ausangatecocha and contemplating if we should go further or stay. Amongst the group we see Quechua women that looked older than most of the "gringos" carrying baggage for the group wrapped in the traditional blankets around their backs. I carry my own stuff on hikes but these women are another level. I have functional clothing, a functional backpack, all these small and big modern gadgets that make hiking life and spending time in the mountains so simple at times. They're carrying loads in blankets on their backs while wearing the same type of clothing from hundreds of years of tradition. It puts my own situation into perspective and makes me feel humble. I feel a deep admiration for them.
Once everyone has left we realise that there's a very small room in the house at the camp. It's empty like the houses from the first night's camp. There's enough room for both our mats so we take the chance again and sleep inside. Our water resource comes from a small waterfall by the laguna, probably coming from the glacier you see a few images further up.
Filling up water at the laguna
The short day of walking gave me the chance to squeeze in a short workout that day. A routine I tried to keep alive during every multi day hike in South America. I very much prefer the routine I stick to nowadays though: A short yoga session, if weather permits, in the morning after getting up. Easier to implement and gets rid of some of the hiker stiffness that may have accumulated over night.