My Experience
One line in my hiking journal for this day reads "Pack more nuts and raisins next time". An effect of being at high altitude can be lack of hunger and appetite despite the body requiring more energy in form of food (generally speaking). According to research, this is due to an increased production of leptin in the body, a hormone that suppresses hunger. So good for the theory. In my personal experience it's been quite the opposite. Once I get adjusted to a certain altitude, i.e. going from 3,800 m to 4,500 m as we did starting the track, I feel incredibly hungry. Like I could eat, eat and still get hungry again after a few minutes. Whether this has to do with a decreased production of leptin in my body or any other reason, I don't know as I usually leave my measuring tools at home when going on a multi day hike ;)
Jokes aside, I realised I'd run out of my portion of snacks soon, the day before today. Not so cool with two more full days to go but hey, the things we learn. Though there's a light at the end of this (very) dark tunnel of not having enough hiking snacks. More on that when when we arrive at the camp later in the text...
For now, let's get into another beautiful day in the mountains waking up in a wee shelter at Laguna Ausangatecocha. There's a magnificent view of the pass to cross from our camp. So we've had all afternoon of the day prior and this morning's breakfast to look at and get intimidated by what's ahead of us. With this familiar emotion of intimidation - or humbling reminders by the mountains as I like to call it - always come loads of excitement. I love steep uphill sections. From the information we have available we know it would be pretty much uphill from the camp for a little over 2 km until we reach the pass, and then a gradual downhill to the camp. Work first, then relax. Nice :)
Today's high point: Abra Palomani at 5,200 m
An additional challenge to me specific to hiking at higher altitudes is a sort of discipline, for lack of a better word. I'm used to walking quickly. Being well acclimatised and reasonably fit that leaves lots of room to push limits. At higher altitudes the line between pushing limits in a, let's say healthy way and having gone too far, thus becoming altitude sick, is very thin. Slowing down to keep in touch with my different breathing at higher elevation, and not overdoing it is always incredibly hard for me, as odd as it may sound.
Frankly, trekking at high altitude has always been more of a mental challenge to me. Having an active and very chaotic mind there are lots of thoughts that can come up when you suddenly need 1.5 hours to walk 2.5 km up to a pass. To me this feels more like going backwards than actually moving forward despite my moving one foot in front of the other. A very, very irritating feeling. Going from 4,600 to 5,200 m that is exactly what is happening when we make our way towards Abra Palomani, high point of the day and this entire multi day adventure. To compose and even fathom how much I've learned from this kind of trekking - for life, especially when it comes to gaining control of mentioned chaotic thoughts - requires an extra blog post.
Grappling with the intimidation and slowly moving upwards to Abra Palomani. The pass is visible in the left corner of the image.
Walking the section up to the pass feels incredibly dry and reminded me of some experiences in Chile's Atacama Desert. The days before we would either walk along snow covered mountains with glaciers or pass an occasional laguna here and there. Views of snow or any sign of some water source are very limited now. Replaced by red, yellow and alike which gave the landscape Mars like vibes. Or at least what I imagine Mars to look like. The lack of oxygen intake per breath integrated perfectly into these vibes. Winter lies within the dry season in the mountains of Peru which generally lasts from May to October. It is August 18, 2019 around 10 am when we reach the pass.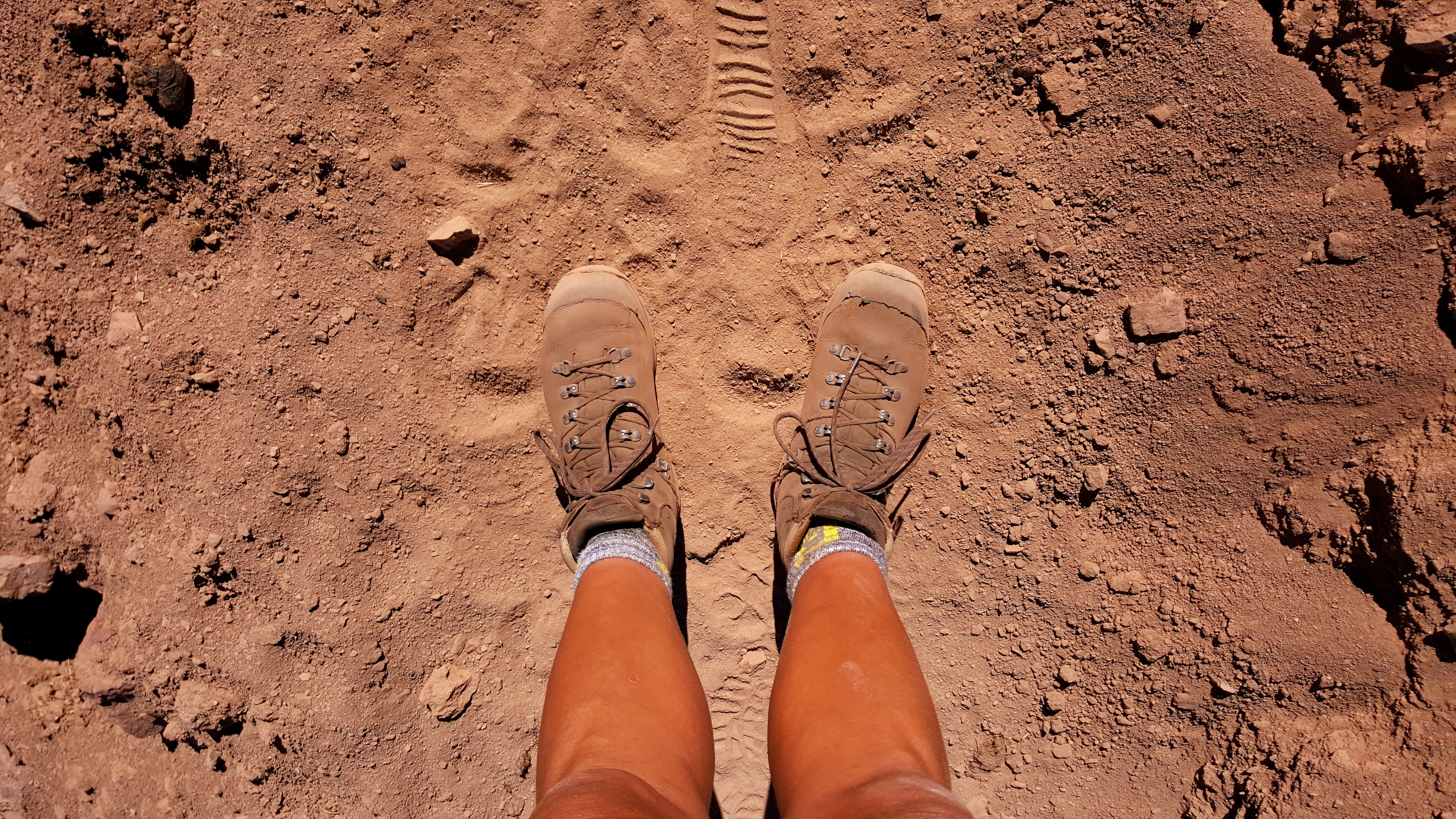 Winter's within the dry season in the mountains of Peru (May to October)
I arrive at the top of Palomani shortly after a guided group coming from the other side of the pass. I'm happy to drop my backpack and take in some views before going crazy with the camera. Probably taking hundreds of photos just to make sure I get every angle of every possible view to always be able to remember this experience, and hopefully what it felt like, in the future. And oh wow, views it is. Snow covered mountains that look like to be in arm's reach and plains in the distance on the side we're heading for. Crazy, otherworldly coloured mountains and landscapes with far away glimpses of Montaña de Siete Colores / Winikunka / Rainbow Mountain on the side we're leaving behind today. 10 minutes later Darryn arrives and we begin exploring the area a bit.
Views of the side of the pass we came from. Glimpses of Winikunka in the left of the image.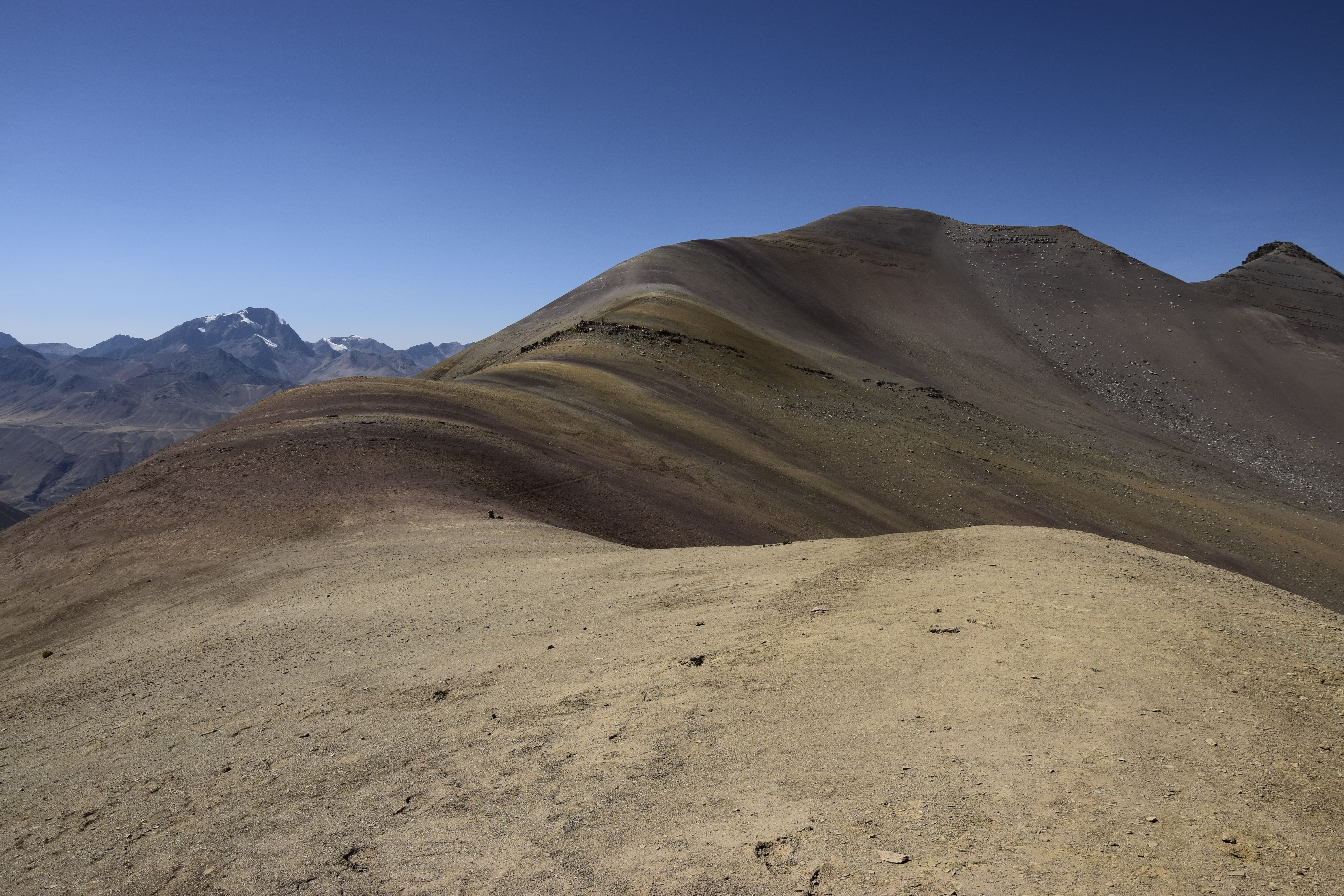 Area around the pass
When Darryn and I return from exploring, the members of the beforementioned guided group are in the midst of a ceremony. From observing but never having been part of such a ceremony it looks to me like it is La Ofrenda a la Pachamama: Giving thanks to Pachamama. In Andean culture, Pachamama refers to a goddess and is considered to be present in all living things, including mountains and rivers. It can closest be translated to the meaning of Mother Earth in the English language. I can't deny, and wouldn't want to, that a lot of this approach and my time in South America, specifically Peru, has had a lasting impact on me. Whether we name our self defined truths Pachamama, God, Nature, Intelligence behind the Universe, or alike, once we strip away human limitations they seem to be rooted in the same thing: Our connection to ourselves and the living world. How to best align ourselves with this connection. This can take many forms, from a so-called purpose to the mere act of being. Which - if, just for one moment we put aside all our must's, have-to's, roles-to-play, worries, burdens, joys, passions, and more, that come with being human and can cause so much suffering - is all we're here for, isn't it?
A herd of llamas who were with a group of locals also crossing the pass
It's with this realisation - which I've had over a longer period of time, not just arriving at this pass and watching the ceremony :) - that I've focused on approaching the world around me, especially other human beings, from a place of commonalities. Not in what makes us different but what we have in common. With compassion, not indifference or even hate and anger.
Before continuing our walk we decide on a path to take. Judging from the map and what we now see ahead of us there are two major options. Either closer along the mountain range via Laguna Roja or towards the plains. We choose to go via the plains for two reasons. One is the possibility of water. On the map we see a river further down the valley. Seeing Laguna Roja from the pass wasn't too inviting when it comes to drinking water and we had no idea what the other lakes around that area would be like but assumed very much the same or similar. The second reason is that we have no idea what the path would be like. There are some hints from the elevation profile available to us at that time that there may or may not be a big drop.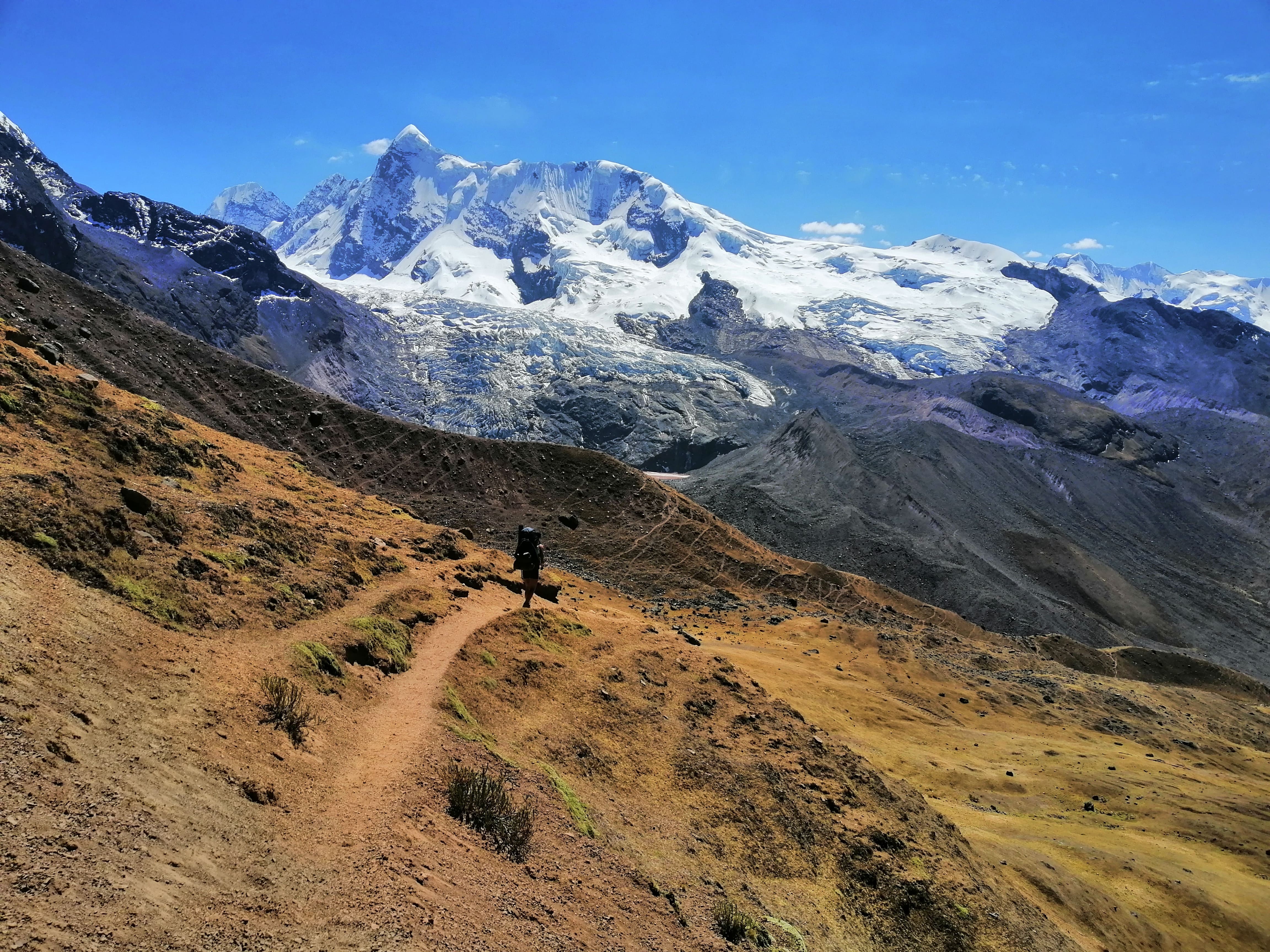 Switchbacking down from the pass
Most of the times I'm definitely keen for the more adventurous option. There'll always be a way, I like to think. This time we opted for the presumably safer option, down towards the plains. Given what I know now I recommend going via Laguna Roja. Despite still not knowing what that path is like from own experience. But I do know the path we walked and have read / heard of other peoples' (positive) experiences hiking via the laguna by now. The path we were walking was quite tiring towards the end.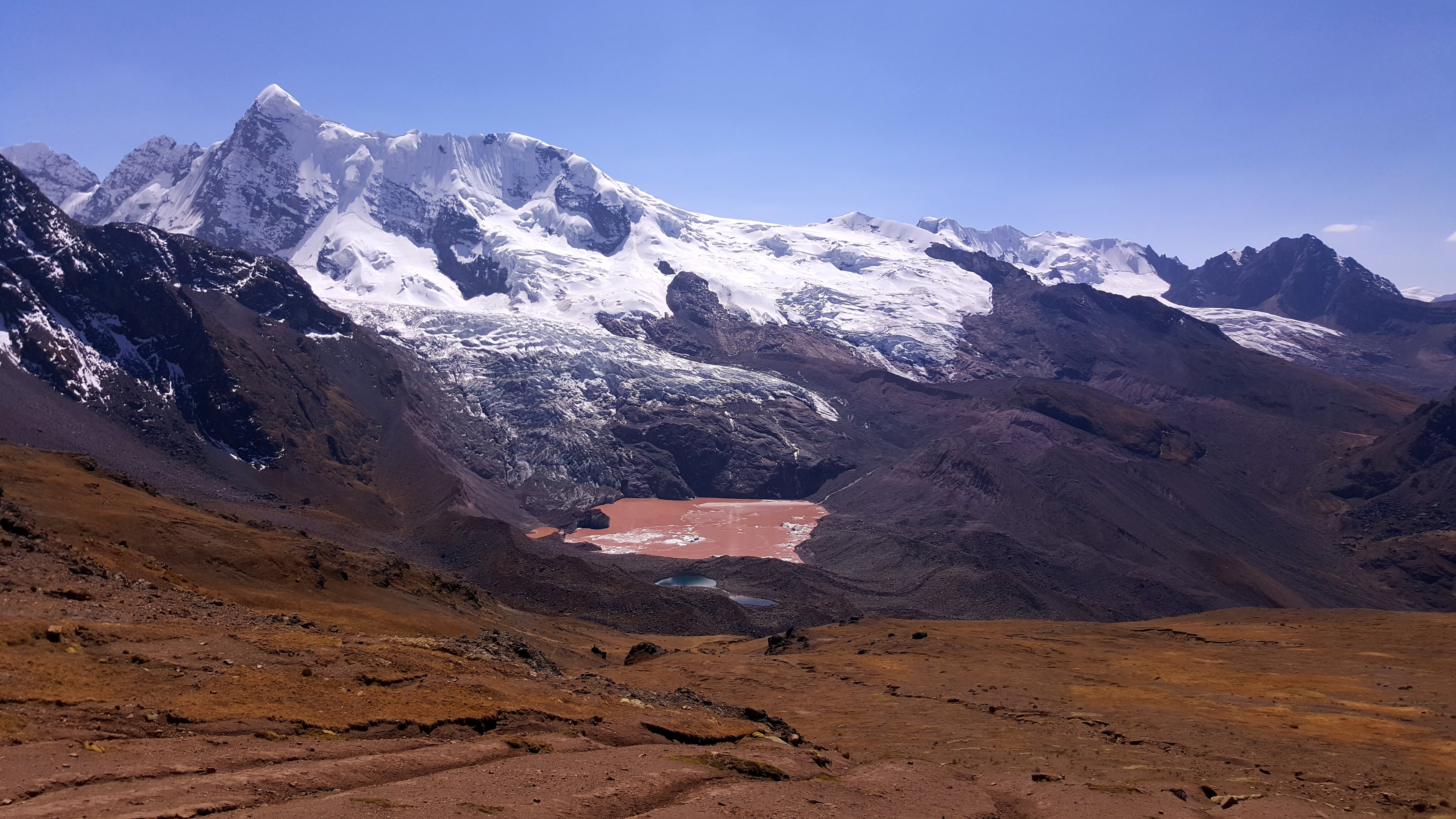 Laguna Roja
In addition to that, the river we are hoping for turns out to have had better days and is a bit too heavily coloured in red for our taste. We assume the colour comes from iron rich sediment being washed off along the way. Since we're not sure about health effects, not knowing too much about red rivers in that moment, we don't take chances and simply hope for it to get better.
The river we hoped to be a reasonable water source is visible to the left.
As I mentioned above the rest of the way to the camp was rather tiring to me. There may be a connection to me running low on snacks. But there was also something about the landscape that made it seem so endless. My carb deficient mind was being overly dramatic and thinking "Are we ever gonna arrive at this camp??" At the same time this is one of the reasons why the landscape was so beautifully captivating. Our destination for today is a camp that judging from the map may be a campsite with facilities and is located by a river.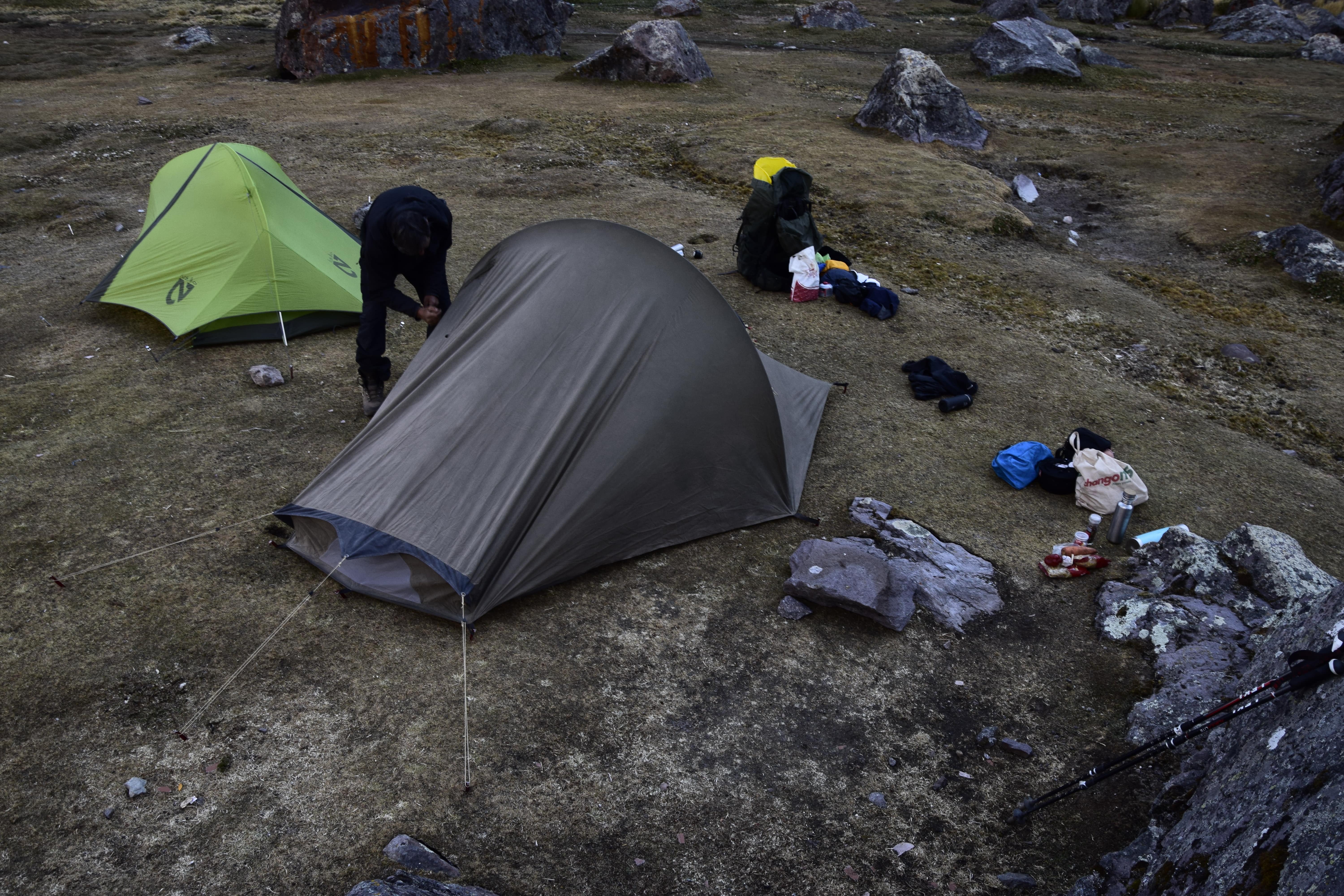 Our camp for the night
I'm quite happy when we (finally) arrive. Even happier when we find out that there is, in fact, not just toilets but a wee shop. Something I would've never expected here. I take a bit of the limited cash we carry with us (not expecting to buy anything but only having spare for camping fees) and try to control myself when purchasing some snacks.
Who we also see when arriving is our guided group friends again. The group we met at the first pass a couple days ago and have been hiking along on and off ever since. While up to this point we mostly have seen each other from a distance we now actually meet the "clients", aka the people being guided or as referenced by me before as "gringos" for reasons of simplicity. We've met and talked to some of the staff before but now I find myself talking to one of the girls being part of the guided group.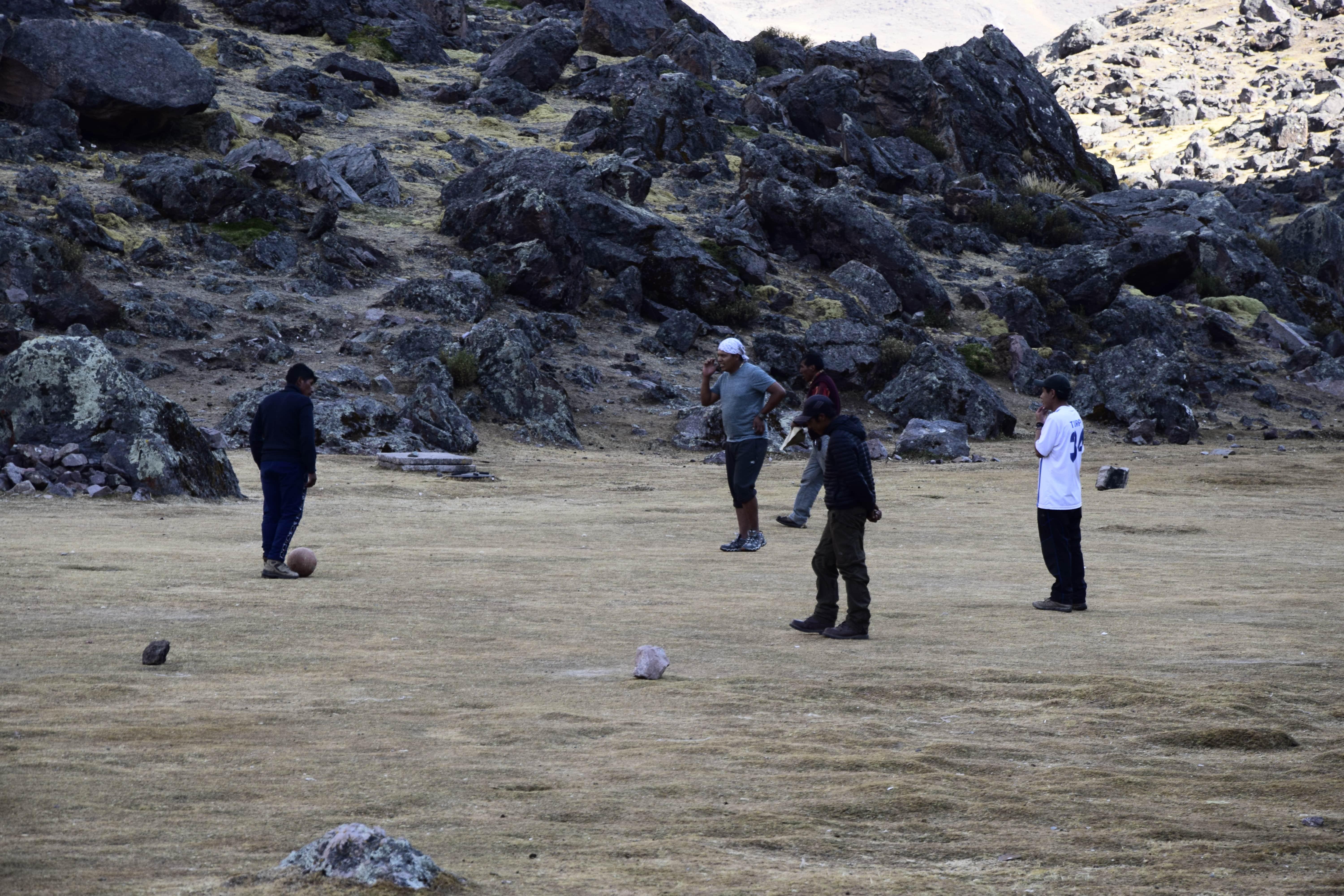 Guides, cook and crew playing soccer in the camp :)
Turns out they're a small group of four people (I've seen guided groups of 15+ people), coincidently all of them from the UK. The women I end up talking to are super nice and curious about us doing the hike fully self-sufficient. They end up inviting us to their eating tent (yes, they have an extra sheltered tent for eating that is carried around each day) to hang out later. After contemplating the absurdity of this happening and if it isn't too odd for us to do so in the middle of the mountains we decide to take the invite (and after making sure it's OK for the guide and helpers).
I'm happy we did decide to do so. We end up having an awesome evening and get an insight of why they, each to their own, decided to opt for a guided tour while exchanging our reasoning to do it the way we do. I still try to remember the insightful conversations from this evening and the gained understanding when I find myself judging guided trekking groups and all their (sometimes quite excessive given the locations) luxury again.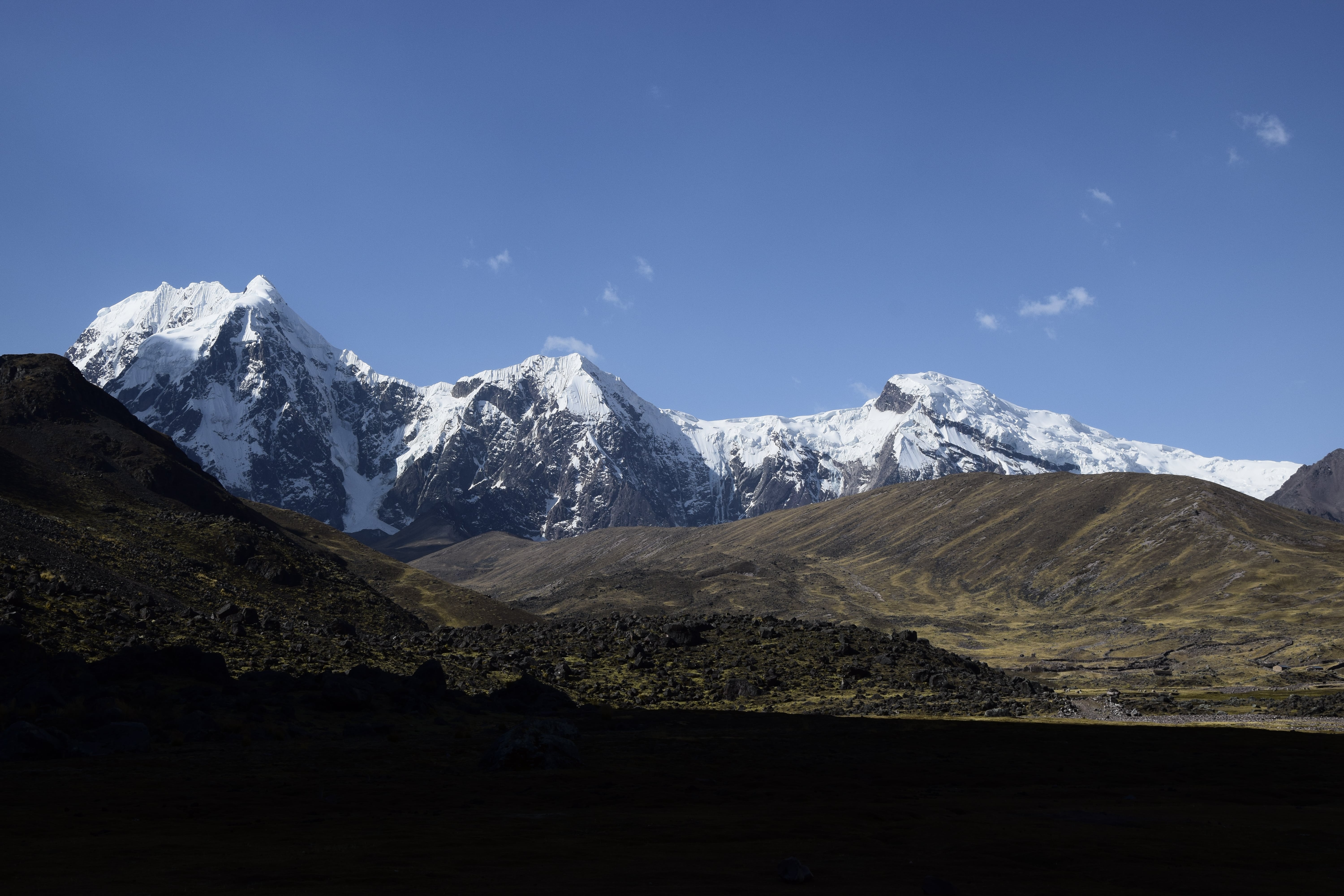 Views from our camp. It's also the direction we're heading for the next day.